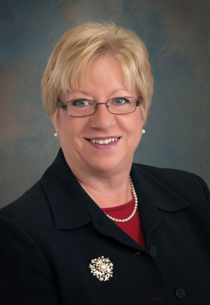 The University of Southern Indiana College of Nursing and Health Professions will hold Commencement at 9 a.m. on Saturday, May 3 in the Physical Activities Center (PAC) on the USI campus. Dr. Ann White, dean of the College of Nursing and Health Professions, and faculty from the college will join members of the USI Board of Trustees, USI President Linda L. M. Bennett, and other officers of the University for the program.
Tonya Heim, vice president of patient services and chief nursing officer for Memorial Hospital and Health Care Center in Jasper, Indiana, will deliver the Commencement address to graduates. She earned three degrees from the University of Southern Indiana: a master's degree in health administration, a bachelor's degree in nursing, and a master's degree in nursing. Prior to attending USI, she earned a diploma in nursing from Deaconess Hospital School of Nursing in 1969 and a bachelor's degree in organizational management from Oakland City University in 2001.
Her career in healthcare began as an emergency room surgery and obstetrics staff nurse before becoming a supervisor and director of those areas. She later led efforts for training and direction in the areas of corporate compliance and infection control, as well as quality services.
Heim's administrative roles began at Gibson General Hospital when she served as assistant administrator of patient services before becoming vice president and chief nursing officer. Her greatest accomplishment at Gibson General Hospital, outside of leading patient care and support services, was serving as the lead for the $5.1 million emergency room addition and renovation project.
She serves on the USI Nursing Program Advisory Council, the Southern Hills Counseling Center (Jasper, Indiana) Board of Directors, Hildegard Board of Directors, Vincennes University Nursing Program Advisory Council, and the Rotary Club of Jasper, where she also is past president. She has previously been involved with Ivy Tech Community College, Princeton Rotary Club, United Way of Gibson County, and other organizations.
Heim and Jim, her husband of nearly 45 years, reside in Holland, Indiana. They have two grown children, Brian in Cincinnati, Ohio, and Andrea in Cicero, Indiana.
Heim will receive the David L. Rice Alumni Achievement Award in recognition of her positive impact on the healthcare field. The award, a crystal soaring eagle representing the University mascot, personifies the vision held by USI's first president, Dr. David L. Rice, of the potential of graduates from the University of Southern Indiana.
Jordan K. Morrison will receive the President's Medal, the highest award given to a graduate. He is a first-generation college student graduating with a Bachelor of Science in nursing degree. As a nursing student maintaining a 3.88 GPA, Morrison was inducted into the Sigma Theta Tau International Nursing Honor Society in 2013 and was the recipient of the Who's Who Among Students in American Universities and Colleges award in 2012, 2013, and 2014. He was chosen by faculty to represent USI on the first Critical Care Dedicated Education Unit, a collaboration with Deaconess Hospital. He also was chosen to participate in USI's pilot program for Medical/Surgical Nursing Designation Educational Unit and the first Nursing Management Designated Educational Unit.
Baccalaureate degree candidates from the College of Nursing and Health Professions who are graduating with honors include the following:
Summa cum laude, highest scholarship index of 4.0 (wearing gold cords)
Beck, Audra K.
Hasting, Jennifer L.
Hunsaker, Erin N.
Newmaster, Teri J.
Safia, Dima A.
Thompson, Hannah L.
Magna cum laude, scholarship index of 3.80 or higher (wearing red cords)
Baker, Jamie R. **
Bell, Brooke L.
Boyer, Korinne L.
Brownfield, Susan M.
Bumpass, Ashton E.
Carter, Krista R. **
Comer, Emily E. **
Corbitt, Elissa N.
Croft, Courtney L.
Crowder, Sylvia L.
Dame, Caitlin R.
Davis, Jennifer L.
Dugan, Rachel M.
Ellis, Amanda M.
Fella, Kyla J.
Fisher, Ann M.
Froman, Megan B.
Harpe, Erica L.
Hatfield, Lauren E.
Holsapple, Joanna K.
Holt, Margaret E.
Hoover, Lauren E.
Hoss, Karen E.
Jones, Alaria R.
Justice, Brittney D.
Kraft, Carrie L.
Kunkler, Tonya R.
Kutter, Elizabeth B.
Lambert, Brittany N.
Lamey, Tiffany M.
Livers, Tessa J.
Miller, Kamila L. **
Morrison, Jordan K.
Myers, Katrina E.
Niebrugge, Calla R.
O'Brien, Meagan L.
O'Daniel, Lynda
Ott, Hillary A. **
Parker, Hannah M.
Peter, Crystal M.
Price, Blair M.
Purdue, Vanessa M.
Raben, Haley G.
Runyon, Rachel L.
Salyers, Hillary R.
Schnur, Ethan C.
Schroeder, Shelby E.
Schutte, Katlyn E.
Sermersheim, Randa M.
Sievers, Rachel L. **
Sitki, Samantha S.
Smith, Lisa F.
Smith, Melissa J.
Stath, Amber D.
Stowers, James F.
Thompson, Tracie R.
Tibbs, Andrew J.
Toon, Rachel M.
Vonderheide, Lori A.
Williams, Samantha L. **
Wright, Madison C.
Yoder, Melinda J.
Cum laude, scholarship index between 3.6 and 3.8 (wearing blue cords)
Amerman, Danielle M.
Bartlett, Hannah L.
Blinn, Justin C.
Bryant, Shelby D.
Burk, Kelsey E.
Bye, Marinda L.
Coker, Alyssa M. **
Dallas, Nichole D.
Dardeen, Lonnie L.
Demijan, Bailey N.
East, Kathryn N.
Fain, Kailie M.
Fox, Kelsey L.
Frankenberger, Andrea D.
Gerling, Kimberly A.
Griffin, Rachel A.
Grose, Justin L.
Guth, Brandi L.
Hanmore, Lacy M.
Harpenau, Sloan M.
Hartmann, Jill M.
Heldman, Kayla R.
Hinderlider, Paige N. **
Horton, Amber D.
Houchins, Kimberly R.
Hugunin, Kelly J.
Hust, Andrea R.
Jackson, Kenzie M.
Kalb, Stephanie K.
Kern, Jordyn K.
Kuper, Stephanie A.
Layton, Makenzie T. **
Lutterbach, Heidi J.
Marshall, Taylor L.
McCallie, Ashley N.
McClanahan, Kaylee R.
Menke, Sarah M. **
Merkel, Ashley M. **
Nelson, Glenda K.
Neville, James K.
Nguyen, Huong
Nordin, Kathryn G.
Nuce, Allison M.
Peter, Alyssa M.
Potts, Taylor O.
Price, Sally R.
Ramirez, Brenda M. **
Riggins, Sara B.
Sandage, Spencer R.
Schlottman, Taylor J.
Schmelz, Eric B.
Schulz, Molly K.
Smulick, Jessica A. **
Sproles, Janessa A. **
Strahla, Kelsey L.
Thomas, Rachel L.
Webb, Baileigh N.
Wells, Audrey M.
Wenzel, Tara L.
Wildeman, Mary R.
Will, Annelise J.
Williams, Ryan D. **
**Asterisks indicate students who will graduate from USI's Honors Program, a demanding and rewarding program for selected students who take on extra challenges in their course work.
Guests of graduates participating in the College of Nursing and Health Professions ceremony will need tickets. A reception for the graduates and their friends and families will follow the ceremony and will be held in University Center East.
Three other colleges at USI will conduct ceremonies on Saturday, May 3 according to this schedule:
Pott College of Science, Engineering, and Education, noon
College of Liberal Arts, 3 p.m.
Romain College of Business and Division of Outreach and Engagement, 6 p.m.
A commencement ceremony for graduate students will be held at 6:30 p.m. on Friday, May 2 in the PAC.
Live video of each ceremony will be streamed in University Center East Conference Center (Rooms 2217-2220). The ceremonies also may be viewed online here.