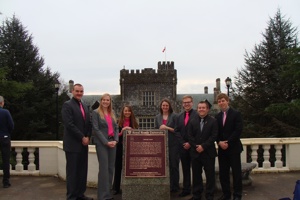 A team from the University of Southern Indiana's Romain College of Business won third place in the 2014 Royal Roads University International Undergraduate Case Competition (RRUIUCC) held April 3-5 in Victoria, British Columbia.
The team included Ryan McGuire, Sarah Krampe, Dylan Cox, Aaron McCullough, and Kyle Hoeing (who served as an alternate). They were coached by Romain College of Business faculty members Jeanette Maier-Lytle and Laci Rogers Lyons.
"Our performance at this competition shows that USI students can compete with top business students from around the world," Lyons said. "This team represented USI well by making the top three and also by competing with good spirits and integrity."
The RRUIUCC featured teams from 20 different schools offering bachelor's degrees in commerce, business, or equivalent degree programs. Teams consisted of four competing students, an alternate, and coaches. Teams analyzed and solved three international business cases, and then immediately presented these solutions to judges. Each round of cases were analyzed and prepared for three hours, but topics and presentation criteria varied each round. Presentations were either 15 or 20 minutes, followed by question and answer sessions of 10 or 15 minutes.
In two rounds, teams presented using PowerPoint aids, but in the "Creative Case" no electronic visual aids were permitted. One round featured a "Local Case" written by a Royal Roads University student about a local organization facing a business problem. After three initial rounds, the top four teams were selected for a final presentation.
Final awards were based solely on performance of a fourth case. The winners were Dublin Institute of Technology (first), University of Alberta (second), University of Southern Indiana (third), and University of Vermont (fourth).
The 12th annual RRUIUCC attracted 20 teams from Europe and across North America. Business case competitions challenge highly motivated business students to showcase their knowledge, skills, and talent. Through a relevant and spirited competition, the RRUIUCC inspires university students to strive for the highest levels of critical thinking and professionalism. In addition, this competition relies on business professionals to judge student recommendations, bridging the gap between the corporate and academic worlds.