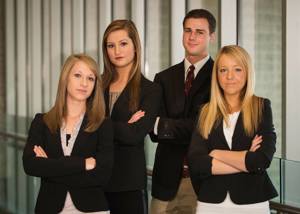 The University of Southern Indiana's Romain College of Business placed third in the 2014 American Institute of Certified Public Accountants (AICPA) case competition in Washington, D.C. on December 19.
In the AICPA competition, USI's students competed against more than 200 teams from universities nationwide. The USI team members were accounting majors Brooke Neuhoff of Huntingburg, Erica Oberbroeckling of Evansville, and Brent Williams of Newburgh.  Another team member, Stevie Lynch of Tennyson, majored in both accounting and finance.  Timothy Bryan, instructor in accounting, served as faculty advisor for the team.
"We are very proud of this student team and what they were able to accomplish," said Dr. Brian McGuire, associate dean of the Romain College of Business and director of accounting programs.  "The current case was certainly different from those assigned in prior years, as it was a managerial accounting case, and it encompassed a wide range of topics that were covered in several accounting courses.  This year's case challenged our students to integrate knowledge from a range of topic areas which they had to integrate into a viable solution."
This is the second year in a row that USI has been a finalist in the AICPA case competition. USI's Accounting Program has experienced great success with its students in recent case competitions.  In the last decade, USI accounting students have won nine case competitions sponsored by the Institute of Management Accountants (IMA) and the Indiana CPA Society.