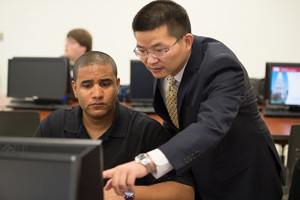 It's estimated that the average person spends approximately 45 to 60 minutes waiting every day. Many pass this time on their mobile phone: texting, web surfing or playing a game. Dr. Gongjun Yan, assistant professor of computer science, sees this mobile computing trend continuing and expanding. "Mobile platform is the current and future trend of technology," he said. He sees his role as helping students capitalize in that market. "I'm preparing students with marketable skills. They can become software developers, project managers or entrepreneurs. I expect to see some millionaires in the future."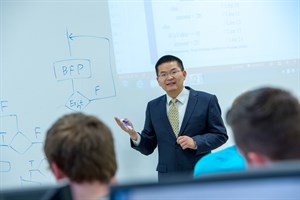 In his Special Projects in Computer Science class he prepares students for the ever-changing world of technology and app development. "We're shooting for an industrial-level application," he said. "At the end of the class, some of the students publish their apps on the market via Google Play." He also plans to connect his computer science students with graphic design students, who can assist with the aesthetics side of app development.
One student in Yan's class, senior, Arnish Singh, received a USI Endeavor Award for Research and Creativity for his project proposal. Yan encouraged Singh to apply for the Endeavor Award and has been providing guidance and mentoring him throughout the process. Singh, an international student from Nepal is developing an informative e-commerce application and website called Nepal Trade, which links the United States market to businesses in Nepal. "You can search for a business and get the address and phone number or find an online source for a product online," said Singh. The idea came to him when he and a friend and business owner had a discussion about linking people together. "We have many naturalized citizens here in the United States and they can't connect with their old market. There has to be a medium. So many links are scattered all over the place," he said.
The project's interface allows keyword search ability and categories such as food, government and travel information. Nepali businesses are able to upload images to the Web server and may update data on the website as needed. Singh said that Nepal's gross domestic product (GDP) has grown from an average of $4.56 billion in 1960 to 19.29 billion in 2013. "The rise in GDP gave me the idea of connecting Nepal's flourishing market to the rest of the world." The application prototype is currently being tested on Apple Mini tablets to check for potential glitches before releasing the final product on the market.
Yan has only been employed at USI for one year and has already had received grants and awards for the creativity and innovative thinking he has brought to the university and the community.