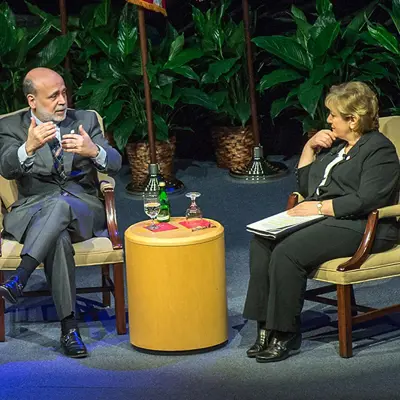 Bernanke talks financial crisis, offers advice for students
$40,000 gift will be used for scholarships
The University of Southern Indiana's Romain College of Business and the USI Foundation hosted former chairman of the Federal Reserve Dr. Ben S. Bernanke on March 23, as the second speaker in the Romain College of Business Innovative Speaker Series. The inaugural speaker was T. Boone Pickens, legendary entrepreneur and philanthropist, who spoke in spring 2013.
The event, "A Conversation with Ben Bernanke," former Fed Chair, and Time magazine's 2009 Person of the Year, is part of a year of events planned for USI's 50th anniversary in 2015. An estimated crowd of 2,500 filled the Physical Activities Center (PAC) for the talk.
USI President Linda L. M. Bennett introduced the speaker and announced a $40,000 gift from Bernanke to be used for scholarships at USI. 
Bernanke gave a brief talk before moving into a Q&A session moderated by Dr. Karen Bonnell, USI professor of communications. He talked about his early years with the Federal Reserve and the crisis that faced the nation during those times. As chairman of the Federal Reserve System under two presidents-George W. Bush and Barack Obama-Bernanke was front and center during a tumultuous period of economic history. As chairman, he faced some of the most critical economic and financial challenges since the Great Depression, helping to lead the government's response to the 2008-2009 financial crisis and subsequent recession.
Bernanke said he was responsible for explaining the imminent crisis to Congress, including the financial meltdowns of Lehman Brothers, global financial services firm, and AIG Insurance. He said fighting the crisis was a team effort and credited much of his success leading the country out of the recession to the creative processes, innovative approaches and direct involvement of his staff. He also talked about gaining the support of the American people. One of his early goals was opening lines of communication between the public and the Federal Reserve, including press conferences and appearances on news programs like 60 Minutes.
His overall outlook is that the economy is moving in the right direction, but said the challenge now is to maintain that growth and economic progress. 
During the Q&A portion of the evening, Bonnell asked questions, many of which were submitted by USI students. Asked about his greatest contributions to the Federal Reserve, Bernanke talked about a collegial academic approach that he and others embraced. They looked deeply at the financial history of the country and then applied that knowledge to the current U.S. financial situation.
Other questions ranged from the effects of technology on the economy and a potential student loan bubble, to whether federal regulations put in place following the recession will help prevent future crises. On income and equality, Bernanke said, "What's most important is what's happening to those in the middle." He said success often comes down to education level and skills. "If you're in college, you need to finish and get those skills," he said.
Bernanke kept the evening light-hearted at times. "It was a great pleasure," he said, in reference to testifying before Congress 78 times. And, when asked about the how he dealt with the high levels of stress, quipped, "I still have a few stomach issues left from then."
His talk was peppered with advice for students: "Find something you like to do, but be smart about where it can take you." "The biggest investment you're making is in yourself." And, "You have to be willing to do unusual things-unorthodox things."
Bernanke's appearance at USI was made possible through the generous contributions of friends of the University, including: Carl Chapman, chairman, president and CEO of Vectren Corporation; Greg Donaldson, CIO and senior portfolio manager of Donaldson Capital Management; JP Engelbrecht, CEO of South Central Communications; Kevin Hammett '90, president and CEO of Regency Properties; Mike Hull, president and senior portfolio manager of Donaldson Capital Management; Bob Jones, president and CEO of Old National Bank; Robert Koch II, chairman of Koch Enterprisis, Inc.; Tim Mahoney, instructor in economics in the Romain College of Business; Chris Melton '72, president of Field and Main Bank; Ron Romain '73, president and CEO of United Companies; Mark Schroeder, chairman and CEO of German American Bancorp; and Linda White, president and CEO of Deaconess Health System.