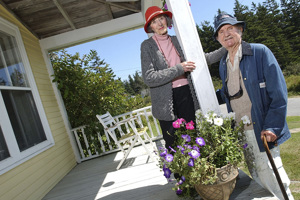 Stephen E. and Palmina (Pam) F. Pace provided a multitude of education experiences to the University of Southern Indiana over the years. Introduced to the University by the late Dr. James R. Blevins, founding dean of the USI College of Liberal Arts, and his wife Barbara, the Paces were actively involved with USI from the mid-1990's until their deaths.
Stephen was a world-renowned artist whose work is part of the permanent collections of notable institutions such as the national Museum of American Art and the Metropolitan Museum of Art. The USI Art Collection has 246 of Stephen's art works and is one of the most extensive Pace collections in the world. On February 9, 2015, the University learned that Pam had died the day before. (See obituary).
In 2007, the Paces retired to New Harmony, Indiana, where they continued to work and formed a lasting relationship with the University of Southern Indiana. A leadership gift from the Paces in 2006 helped to establish the Kenneth P. McCuchan Art Center/Palmina F. and Stephen S. Pace Galleries, a 4,000 square-foot exhibition space which opened in USI's Liberal Arts Center in the fall of 2008.
The Stephen S. Pace Collection at USI is a teaching collection used throughout the University. Ten of the Pace oil paintings are permanently on display throughout the campus. In addition to helping establish the galleries, the Paces also established endowed art scholarships for USI students.
While Stephen was the artist, Pam was the business woman. Known for her organized nature and charismatic style, she became her husband's manager, allowing Stephen to devote himself to art. After Stephen's death in 2010, Pam continued to live in New Harmony until relocating to New York City in August of 2012. Due to failing health, she later moved to a retirement center in Livingston, New Jersey, where she remained until her death.
The Pace's contributions to the University have helped USI art students define and reach their artistic goals. They are remembered as true friends of the University.