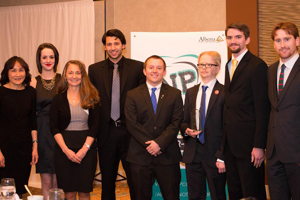 A team of students from the University of Southern Indiana's Romain College of Business won first place for their presentation in the Alberta Not-for-Profit Case Competition (ANPCC). The second annual competition was held February 26 through March 1 at the University of Alberta in Edmonton, Alberta Canada. The competition gives students an opportunity to apply classroom knowledge to the financial reality of a not-for-profit organization and give back to the community in the process.
The USI team was one of only nine teams from business schools across Canada and the United States invited to compete in this dynamic and innovative initiative. This was the first win outside the United States for a USI business case team.
Students representing USI were Brian Ensor, Kyle Hoeing, Zach Mathis and Cole Schafer. They were coached by Romain College of Business faculty members Jeanette Maier-Lytle, instructor in accounting, and Dr. Manfen Chen, associate professor of finance.
The ANPCC partners with one of Edmonton's not-for-profit organizations to present competitors with a real case that outlines challenges currently faced by the organization. The teams have 40 hours to tour the facility and research and develop a business strategy. Teams present solutions to a panel of judges made up of academic and business leaders in the not-for-profit sector in Canada. This year's nonprofit was The Kids With Cancer Society (KWCS), which provides peer support and programs for children and families touched by cancer. KWCS needed an innovative and actionable plan to increase sustainability of its funding. They also needed a better way to brand their organization to set KWCS apart from other cancer organizations.
Ensor said he is enjoying the rewards of being part of the winning team. "I have Canadian connections and friends," he said. "I've now been invited to visit a local nonprofit to give an opinion of its branding problem, which will mean professional connections and a networking opportunity. I've been congratulated by professors at USI and many students as well. I even received a congratulatory email from [USI] President Bennett. It's been great!"
Florida State University placed second in the competition, and the University of Alberta received third place. The Alberta win for USI adds to a long tradition of success for Romain College of Business case competition teams.