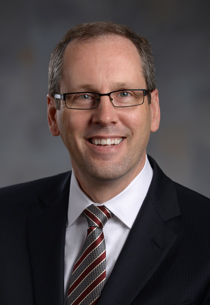 The University of Southern Indiana will hold a Commencement ceremony for graduate students at 6:30 p.m. on Friday, May 1 in the Physical Activities Center (PAC) on the USI campus
D. Keith Jewell '86 M'91, president of St. Mary's Health, will deliver the Commencement address. He is a USI graduate with a bachelor's degree in accounting and a master's degree in business administration.
After completing his degrees, Jewell began his career in healthcare as an accountant and consultant, preparing financial forecasts and strategic financial plans for hospitals, physicians and long-term care facilities. He went on to become the director of financial planning/business development for Franciscan St. Francis Health in Indianapolis and chief financial officer for St. Francis Medical Group.
This work would later become beneficial as Jewell served as executive vice president of finance and operations for V4 Consulting in Indianapolis. This role introduced him to a wide variety of operational aspects of the organization including marketing, human resources, information technology, resource management, purchasing and facilities management. All of these aided in his move to executive vice president and chief operating officer for Franciscan St. Francis Health where he was responsible for operations of a regional delivery system that included three hospital campuses and many outpatient locations throughout the service area.
In December 2013, Jewell was named president of St. Mary's Health, where he oversees a regional delivery system of multiple hospitals and outpatient facilities, a home health agency, six joint venture companies, an accountable care organization and an employed physician network of more than 200 physicians. He is committed to continuing St. Mary's proud tradition of "delivering spiritually-centered, holistic care, which sustains and improves the health of individuals and the community.
Jewell served on the boards of the USI Foundation, American Red Cross Southern Indiana Chapter, NeuMED Partners, GME Consortium and the Healthcare Financial Management Association. He also is active with the Evansville Regional Business Committee, the Southern Indiana Economic Development Committee and the Indiana Hospital Association.
Jewell will receive the David L. Rice Alumni Achievement Award in recognition of his positive impact on healthcare in the region. The award, a crystal soaring eagle representing the University mascot, personifies the vision held by USI's first president, Dr. David L. Rice, of the potential of USI graduates.
A reception for the graduates and their friends and families will follow the ceremony and will be held in University Center East.
The four Colleges at USI will conduct Commencement on May 2 according to this schedule:
College of Liberal Arts, 9 a.m.
Romain College of Business and Outreach and Engagement, noon
College of Nursing and Health Professions, 3 p.m.
Pott College of Science, Engineering, and Education, 6 p.m.
Live video of each ceremony will be streamed in University Center East Conference Center (Rooms 2217-2220). The ceremonies also may be viewed online here.