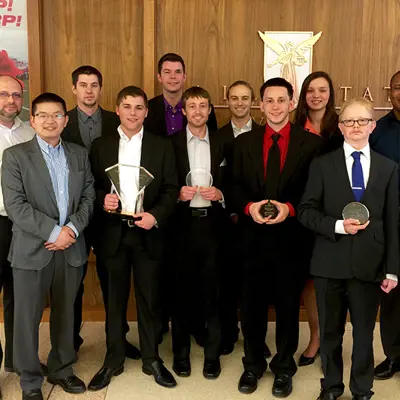 USI team wins information systems competition
A team of nine students from the University of Southern Indiana's Romain College of Business was named overall champion in the fourth annual Information Systems Project and Case Competition. The event was hosted by the Miller College of Business at Ball State University in Muncie, Indiana. Twelve teams from seven universities participated. This is the first year a team from USI entered the competition, and they received the highest number of awards.
The competition allows students majoring in a technology discipline to utilize their skills by solving a live case analysis, as well as showcasing senior projects and projects completed earlier in their undergraduate careers. Students in classes taught by Dr. Gongjun Yan, assistant professor of computer science, and Dr. Dinko Bacic, assistant professor of computer information systems, collaborated on a project for the Freedom Heritage Museum. Yan's class developed android app components and Bacic's class was responsible for project management and documentation. The teams also took second and third place for their website redesign for the Evansville-based Franklin Street Event Association.
The team included Chase Hunt, Brian Ensor, Jared Hermayer and Courtney Henson, seniors majoring in computer information systems, and Chad Greenwood, Steve Babcock, Matt Lockard, Cleo Walker and Jared Shade; seniors majoring in computer science. Yan and Bacic served as coaches.
"It was a wonderful experience to take our senior project and show off what the team had accomplished throughout the semester and be recognized for doing a good job," said Hunt.
Awards include:
 The Freedom Heritage Museum - Android App Team (aka Project Thunderbolt)
First Place Overall  (case competition, class project contest, and presentation)
First Place Case Solution (case competition award)
Franklin Street Event Association - Website Team (aka Project Fall in Love With Franklin)
Second Place Project Presentation (class project)
Third Place Project Solution (class project)