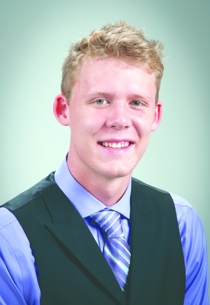 Indiana Governor Mike Pence has appointed Evan Stieler of Newburgh, Indiana, to the University of Southern Indiana Board of Trustees. Effective July 1, he will serve as a student trustee for two years.
Stieler, a junior, is a biology major on the pre-medicine track and the recipient of the 2013 USI/IU Medical School Baccalaureate/Doctor of Medicine Scholarship. He was named valedictorian of Evansville Day School's senior class of 2013 and maintains a 4.0 cumulative GPA as a student at USI.
He was selected as the 2015 Student Ambassador of the Year by the Office of Admissions and served on the Student Ambassador Organization Executive Board his sophomore year as the activities chair. He has been involved with USI's Honors Program since his freshmen year and served on its executive board as the mentor/mentee program chair. On campus, he is engaged with the National Collegiate Honors Council, Pre-Professional Health Club, AMIGO and the Student Government Association.
During his two years at USI, Stieler has been awarded the University of Southern Indiana Top Student Leader Award, Distinguished Sophomore Award, Outstanding Freshman Student Leader of the Year and received the 2013 University of Southern Indiana Alumni Association Scholarship.
"I want to help prove a bold statement I already hold to be true – the University of Southern Indiana is the best university in the state of Indiana," said Stieler.
The student trustee, a voting member of the nine-member USI Board of Trustees, brings a student's perspective to the governing board. The student trustee must be a full-time student, a U.S. citizen and resident of Indiana, have a 2.5 GPA or above, and have completed 24 semester credit hours at USI.