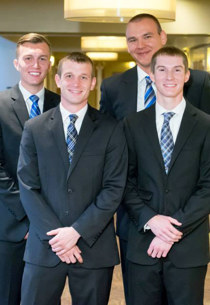 A team of students from the University of Southern Indiana won first place in the national Student Case Competition sponsored by the Institute of Management Accountants (IMA). USI is only the second university to win the prestigious IMA competition five times. It also is the ninth year for USI's Romain College of Business to qualify for the national finals.
The IMA conference, held in Los Angeles, California on June 20-24, provides students with the opportunity to network with business colleagues and remain current with the latest professional standards and trends. Team members were accounting majors Mitchell Meurer and Austin Rahmoeller, finance major Logan Ball, and graduate student Aaron McCullough. Faculty sponsors were Jeanette Maier-Lytle and Jamie Seitz, instructors in accounting.
"The sustained exceptional performance of our students in this national competition exemplifies their commitment to excellence and the caliber of their professional skills," said Dr. Mohammed Khayum, dean of the Romain College of Business.
Accounting teams from universities throughout the country entered the competition. To qualify for the finals, teams prepared 15-minute video presentations and submitted them for blind judging. Four teams were chosen to make live presentations in the final round at IMA's 96th Annual Conference and Exposition in Los Angeles, California. Judges included representatives from industry and academia across the country. Finalists received a $3,000 award and, as the national champion, the USI team received an additional $2,000.
"USI's team did very well with a solution that provided an innovative approach to a complex situation," said Dr. Brian McGuire, associate dean of the Romain College of Business and the director of accounting programs. "The team offered many advanced techniques in their recommendations to the case."
The Student Case Competition is sponsored annually by IMA to promote sound financial/accounting analysis and presentation skills. IMA is an organization for management accounting and finance professionals with more than 75,000 members worldwide.
USI's Accounting Program holds special accreditation from the Association to Advance Collegiate Schools of Business (AACSB), reserved for the top accounting programs in the country. The program focuses on real-world accounting problems and case studies, applying technical and theoretical knowledge in practical settings. Degrees are offered in five accounting tracks: financial accounting, managerial accounting, investment accounting, financial management and information systems.