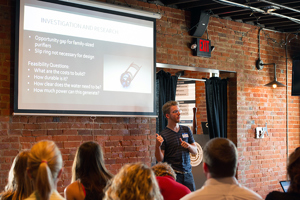 On Wednesday, July 22, students from USI's Technology Commercialization Academy (TCA) and startup companies from USI's Eagle Innovation Accelerator (EIA) program pitched their innovative ideas to a crowd of more than 80 people, including local investors, at Tin Man Brewing Company in Evansville.
Each of the five TCA teams and EIA companies gave 60 second pitches on their products. Teams displayed their work and investors had opportunities to engage with team and company members. Investors were given $550 of play money to distribute to the groups they felt held the most promise.
The TCA team collecting the most money at the end of the night was awarded 25 percent of a real cash prize donated by attendees. The winning EIA company was awarded the remaining 75 percent.
The top TCA group was Liber Innovations, for a product called the Motor Development Arm, which assists individuals with disabilities involving fine motor skills in doing tasks. The winning EIA company was Lullafi, developers of a product that simulates the sounds and vibrations experienced when riding in a car to soothe infants to sleep. Other products pitched at the event ranged from social media applications to a tool that helps loosen or tighten garden hoses.
About Technology Commercialization Academy: The TCA academy, an 11-week program based on a partnership with Naval Surface Warfare Center (NSWC) Crane to find new uses for military patents, helps cultivate high-tech commercialization in southwest Indiana, train the business leaders of tomorrow's workforce and seed start-up companies. The program is nationally recognized and has produced viable startup companies.
About Eagle Innovation Accelerator: The EIA, an intense 14-week acceleration program to make business ideas more appealing to investors, helps move innovations toward commercialization and, results in job growth and creation, fostering increased economic prosperity.