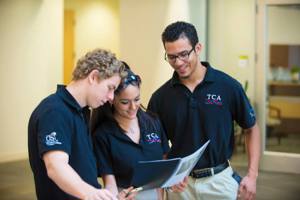 Teams of University of Southern Indiana students from the 2015 Technology Commercialization Academy (TCA) will present final product ideas at 10 a.m. on Friday, July 24. Concepts from this 11-week program will be pitched to USI faculty and staff, local business leaders and regional entrepreneurs in the USI Business and Engineering Center (BEC) atrium. Following final presentations will be the opportunity to meet with TCA teams and learn more about their developed ideas.
TCA trains burgeoning new business leaders by offering students opportunities to learn about new technologies. Students ideate new applications of existing military technology with the goal of sending final products to market. In May, TCA students visited USI partner Naval Surface Warfare Center Crane Division (NSWC Crane) to be exposed to technologies originally created for the military. Students visited NSWC Crane on July 16 to present new applications of that technology to Crane scientists and innovators.
In addition to presentations at USI and Crane, TCA teams will give sixty-second pitches to the Evansville Tech on Tap group at 5 p.m., Wednesday, July 22 at Tin Man Brewery. Local entrepreneurs will have the opportunity to invest mock money on the ideas holding the most promise.
The award-winning TCA has produced multiple startup companies with products being developed for market, including Pivot Engineering's Clever Cubes and H&H Heating Source's Cuisine Caterer. Products being pitched this year include a new mobile app, cable distribution technology and more.
Along with the Eagle Innovation Accelerator and USI entrepreneurship programs, TCA assists in the initiative to create an innovative ecosystem through rural technology transfer. This ecosystem will generate new business opportunities and improve industry and economic development in the region.
For more information on the 2015 Technology Commercialization Academy, visit /outreach/usi-crane-partnership/technology-commercialization-academy