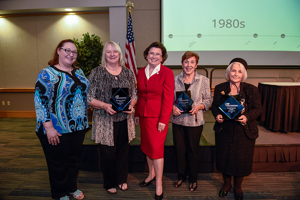 View a gallery of images from the event.
The University of Southern Indiana celebrated its founders and honored supporters at the annual Founders' Day program sponsored by the USI Alumni Association on September 15. The event, which pays tribute to the University's start, has special significance this year as USI celebrates its 50th anniversary.
"It's important for us to celebrate Founders' Day because of how far we have come," said Janet Johnson, director of Alumni and Volunteer Services. "Today, the University of Southern Indiana is a highly regarded public university, one that continues to make a positive impact on the region and a difference in the world. The journey from one aging school building to a thriving college campus is a testament to the vision, tenacity and hard work of its founders, leaders, faculty, students and alumni through the years. Founders' Day is a celebration of this founding spirit."
Ronald D. Romain '73, alumnus and member of the USI Board of Trustees, offered a tribute to USI founders, including members of Southern Indiana Higher Education, Inc. (SIHE), USI's Board of Incorporators and Board of Trustees, and the Southern Indiana legislative delegation. A proclamation by Evansville Mayor Lloyd Winnecke followed, designating September 15 as "University of Southern Indiana 50th Anniversary Day."
The program, held in University Center's Carter Hall, included the presentation of three awards:
Alumni Service Award
Judy Morton '73, a world renowned needle artist, holds a bachelor's degree in elementary education from USI. While attending USI, Morton was a non-traditional student raising two children as a single mother. She has been a true friend of the University since her days as a student, and continues to support USI today.
In 1985, she helped organize and served as vice president for the Quilt Registry Project for the state of Indiana, and she helped found the Raintree Quilters Guild of Evansville, Indiana. In celebration of Indiana's bicentennial in 2016, the Indiana State Museum asked Morton for one of her quilts to display in the exhibit "19 stars-quilts of Indiana's present and past." Only 38 quilts were selected for this prestigious exhibit.
She also established the Thomas J. Morton Jr. Engineering Scholarship Endowment to honor her late father-in-law. She is a member of USI's Alumni President's Associates and the prestigious C. Wayne Worthington Legacy of Lifetime Giving Society.
Her commitment and dedication to the Evansville community and USI is commendable. Recently, she made a gift of her rare and nationally-known quilt collection to the University's Art Collection.
Faculty Recognition Award
Nancy Findley Bizal is an instructor of business communication and the coordinator of external relations for the Romain College of Business. She earned a bachelor's degree in social sciences from DePauw University and a master's in business education from Indiana University.
Bizal is known as a creative teacher concerned about her students' learning and professional success. As coordinator of external relations, she continues her passion for bringing business practitioners into the Romain College of Business. She has been involved with its three advisory boards: Board of Advisors, Accounting Circle and Young Professionals, and IT Alliance. She also facilitates the Executive-in-Residence and Alumni-in-Residence programs, and several speaker series, and is the editor of the Romain College of Business Reports newsletter.
Bizal has a history of volunteering, most often related to developing young people both professionally and personally. In 2008, she was named the Phenomenal USI Faculty Member as part of the Phenomenal Women of USI and the Community awards. She also was a finalist for the 2009 Athena Award for her involvement in the Evansville community.
Honorary Alumni Award
Steve Small, a native of Evansville, Indiana, was a strong believer in the undertaking of the University of Southern Indiana to provide stewardship of our arts culture. For the past 25 years he was affiliated with USI's Theatre Program and appeared in numerous performances with the New Harmony Theatre, most recently playing Huckabee in The Fantasticks in 2014.
Small received a bachelor's degree in communications from the University of Evansville in 1976. He came to USI for coursework in secondary education and subsequently began studying acting. Theatre was deeply entrenched in his life. He and wife, Vicki, gave generously to USI Foundation, sponsored New Harmony Theatre productions, volunteered time, served as a mentor to young actors and actresses and opened their home to many visiting theatre artists, hosting cast and crew's parties.
In 1991, he received the Irene Ryan Award nomination for his role in A Cry of Players. He was designated an affiliated artist by the College of Liberal Arts in 2000, in recognition of his ongoing relationship with USI.
This award, given posthumously, was accepted by Elliot Wasserman, chair of the Performing Arts Department and professor of theatre.
Following the Founder's Day program, students, faculty, staff and guests gathered on the USI Quad for a campus photo.