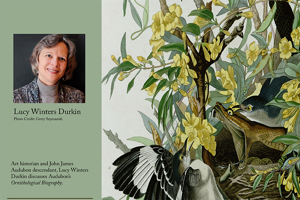 Professor and art historian Lucy Winters Durkin will present a lecture titled "John James Audubon's Ornithological Biography: The Intersection of Art and Science" at 7 p.m. Thursday, October 1 in Kleymeyer Hall in the lower level of the Liberal Arts Center. There will be a reception following the event in the McCutchan Art Center and Pace Galleries.
In this lecture, Durkin examines the literary contributions of her great, great, great grandfather, John James Audubon, best known for his four-volume edition of Birds of America. Durkin will discuss creative and rhetorical strategies in Audubon's Ornithological Biography, the narrative companion volumes containing information about the birds Audubon painted.
Durkin graduated from Smith College in 1979 with a bachelor's degree in history, and went on to earn her masters in art history at Williams College in Williamstown, Massachusetts. Durkin has served in a variety of professional positions focusing on the importance of art and its historical impact and context. She has served as a lecturer at Eastman School of Music of the University of Rochester in Rochester New York, Genesee Community College in Batavia, New York, and Memorial Art Gallery in Rochester, New York. She is also the co-founder and coordinator of Sight and Sound, an ongoing series of lectures and concert performances by members of the Sound ExChange Project in the Memorial Art Gallery.
About John James Audubon
John James Audubon (1785-1851) was a noted American naturalist, ornithologist and painter, best known for his book, The Birds of America, a giant four-volume work of color plates presenting the greatest documentation of birds produced up to that time. While residing in Henderson, Kentucky, from 1810-1819, Audubon produced a comprehensive collection of detailed drawings of American birds,  culminating in the publication of The Birds of America.

While John James Audubon's art has received considerable attention by writers over the past 150 years, his Ornithological Biography has received less attention. This multi-volume set contains written description of each species. 
The event is sponsored by the USI College of Liberal Arts and the Department of Communications. This program has been made possible through a matching grant from Indiana Humanities in cooperation with The National Endowment for the Humanities,  and is free and open to the public. For more information contact Dr. Leigh Anne Howard at 812-464-1741 or lahoward@usi.edu.