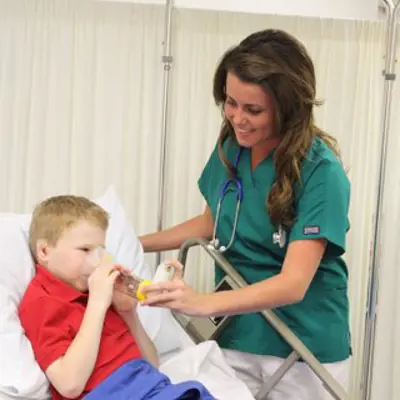 Respiratory Therapy Program adds bachelor of science degree
The Indiana Commission for Higher Education has approved a four-year degree program for respiratory therapy in the College of Nursing and Health Professions at the University of Southern Indiana. The current two-year Associate of Science in Respiratory Therapy (ASRT) degree program will transition to a four-year Bachelor of Science in Respiratory Therapy (BSRT) degree program in the fall of 2016.
 "This is an historic move for USI," said Wes Phy, program chair. "Our program has served the community well for many years, but we will now be evolving into a much more advanced program that will move our profession into the next generation. USI will be one of only four programs in the state of Indiana to offer a bachelor's degree in respiratory therapy."
All core curriculum courses and most respiratory therapy courses are offered at the USI campus. Clinical training is provided at Deaconess Hospital, Deaconess Gateway Hospital, Methodist Hospital, Owensboro Health Regional Hospital, Select Specialty Hospital, Good Samaritan Hospital and St. Mary's Medical Center, under qualified medical supervision.
In addition, the Respiratory Therapy Program also will offer a degree-completion section (AS degree to BS degree), which will allow current registered respiratory therapists (RRT) with a two-year associate degree to complete course requirements for the BSRT from USI entirely through distance education.. "Working registered respiratory therapists can complete the BSRT in four semesters of full-time study or six semesters of part-time study," said Phy.
Information on both degree completion and entry-level programs can be found at USI.edu/respiratory-therapy.