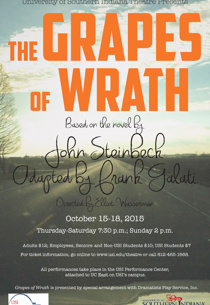 University of Southern Indiana Theatre is starting the fall 2015 season with The Grapes of Wrath by Frank Galati, from the novel by John Steinbeck, which recounts the struggles of the Joad family as they leave their home and farm in Sallisaw, Oklahoma, to travel and join with others in hopes of finding jobs in California. The production runs Thursday through Saturday, October 15-17 at 7:30 p.m. and Sunday, October 18 at 2 p.m. in USI's Performance Center.  
Elliot Wasserman, director of The Grapes of Wrath and chair of Performing Arts at USI, will be joined by a design team including USI students Rachel Thomas, lighting designer; AJ Jones, choreographer; and Cassandra Weiss, production stage manager and dramaturg; faculty members Shan Jensen, costume designer and Paul Weimer, scenic designer; additional USI Theatre staff Kevin Gray, sound designer and Eric Voecks, projection designer; and USI Theatre alum Jolie DeVries, music director.

The Grapes of Wrath cast are portrayed by USI students Conner Keef, Cameron Ward, Tharilyn Bunker, Craig Bryant Belwood, Sam Garrison, Elle Gensic, Nolan Spinks, Hannah Michelle, Maximillian Spears, D'Angelo Himes, AJ Mason, Andrew Duvall, Aaron Nulton, David Birge, Brock Murray, Collin Culiver, Christine Bay, Tamarea Kramer, Maggie Brown and Megan Hoffman. Also included in the cast are community members Mark Atchison, Jolie DeVries, Konnor Rudisill and Rachel Ivie; and USI employees Deb Pellant and Dennis Black.
Tickets are $7 for USI students, $12 for adults, $10 for USI employees, seniors (60+) and non-USI students. Shows start at 7:30 p.m. Thursday through Saturday and 2 p.m. for the Sunday matinees. To purchase tickets or for more information, visit USI.edu/Theatre or call the box office at 812-465-1668. Follow us on Facebook at USITheatre and NewHarmonyTheatre, Twitter @TheatreUSI and Instagram @USI_Theatre for updates and photos.
USI Theatre's second fall performance is Tartuffe by Moliere, translated into English verse by Richard Wilbur, running November 19-22, 2015. The spring production includes Arcadia by Tom Stoppard as the co-production of New Harmony Theatre and USI Theatre running February 18-21, 2016, and rounding out the season is The 25th Annual Putnam County Spelling Bee, with music and lyrics by William Finn, book by Rachel Sheinkin, conceived by Rebecca Feldman and additional material by Jay Reiss, running April 14-17, 2016. Tickets for all upcoming productions are on sale now.