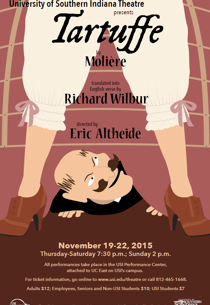 The University of Southern Indiana Theatre ends the semester with the comedy production Tartuffe by Molière, with translation into English verse by Richard Wilbur. In Tartuffe, Madame Pernelle visits her son, Orgon, using the visit as an opportunity to criticize all the members of the house, while admiring their boarder, Tartuffe, who she believes is a man of sacredness and passion. During her stay, Madame Pernelle discovers Tartuffe is really a hypocritical and deceitful man. Madame Pernelle spends her stay warning everyone about Tartuffe's persona, and conflict arises when the members of the house reject these beliefs.
The cast is made up of talented USI students: Ashleigh Lane Dulik, Andrew Duvall, Enjoli Drake, Maximilian Spears, Taylor McKee, Craig Bryant Belwood, Cameron Ward, Austin Tenbarge, Aimee Grace, Nolan Spinks, Samuel Garrison and Grace Craft. The director, Eric Altheide, is joined by a design team including USI students Cassandra Weiss (production stage management/dramaturgy) and AJ Jones (costume design), as well as faculty/staff members Eric Cope (lighting design), Paul Weimer (scenic design) and Kevin Gray (sound design).
Tickets are $7 for USI students, $12 for adults, and $10 for non-USI students, USI employees and seniors (60+). Performances run November 19-22, with shows Thursday-Saturday starting at 7:30 p.m. and Sunday at 2:00 p.m. To purchase tickets or for more information, visit USI.edu/Theatre or call the box office at 812-465-1668. Follow us on Facebook at USITheatre and NewHarmonyTheatre, Twitter @TheatreUSI, and Instagram @USI_theatre for updates and photos.
USI's spring productions include Arcadia by Tom Stoppard as the co-production of New Harmony Theatre and USI Theatre running February 18-21, 2016, and ending the season, April 14-17, 1016, is The 25th Annual Putnam County Spelling Bee with music and lyrics by William Finn, book by Rachel Sheinkin, conceived by Rebecca Feldman and additional material by Jay Reiss. Tickets for all upcoming productions are on sale now.