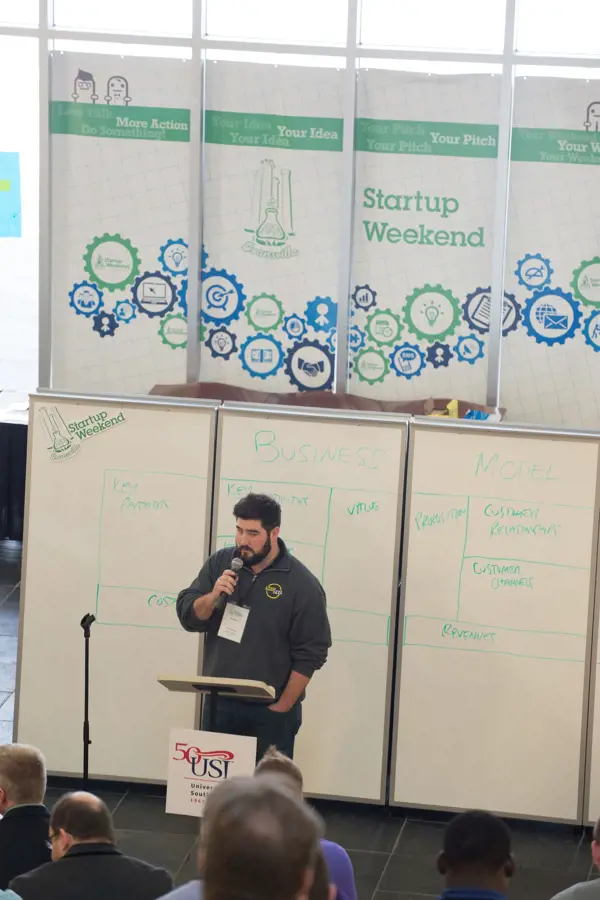 Entrepreneurs, thinkers, doers to come together at fifth-annual Startup Weekend Evansville
If you've ever thought about building on a great idea, starting your own company or collaborating with a team of like-minded entrepreneurs, you shouldn't miss Startup Weekend Evansville 5.0, which will be held Friday through Sunday, February 19-21, in the University of Southern Indiana's Business and Engineering Center.
A global phenomenon, all Startup Weekend events follow the same basic model: Anyone is welcome to pitch a startup idea and receive feedback from peers; teams form organically around the top ideas (as determined by popular vote); and then it's a 54-hour frenzy of business model creation, coding, designing and market validation. The events culminate with presentations in front of local entrepreneurial leaders and another opportunity for critical feedback.
Watch a trailer for Startup Weekend Evansville 5.0
In its fifth year, Startup Weekend Evansville remains the largest event of its kind in Indiana. Through the support of generous sponsors USI's Romain College of Business, Vectren, Growth Alliance for Greater Evansville, Heritage Federal Credit Union and Lieberman Technologies, Startup Weekend Evansville is generally more affordable than other Startup Weekend events.
"Startup Weekend Evansville has always focused on affordability for everyone to attend and to explore ideas, immerse in entrepreneurial education, and create new like-minded networks," said Bryan Bourdeau, instructor of business and Startup Weekend organizer. "Tickets start at just $25 and include all materials, swag, and three meals per day for the entire weekend.  More importantly, you receive one-on-one access to top-quality mentors and judges to advise, help direct your weekend efforts, and provide invaluable feedback."
Members of the public who just want to watch final pitches, judging and awards can register for Sunday Demo Day tickets for $15, which includes a catered dinner.
The keynote speakers for Startup Weekend Evansville 5.0 are Bradley Davis and Cole Raven, co-founders of Dough Deals, a mobile app and platform for local restaurants to connect with a local audience and offer promotions. They will discuss the trials, tribulations and considerations of their experiences launching a new startup.
"It's important for Startup Weekend Evansville participants to have access to local entrepreneurs living the 'entrepreneurial process'," said Bourdeau. "Learn from their mistakes and pivots to better position your ideas for success.  Bradley and Cole are great speakers and will not sugar coat anything."
Prizes include marketing consulting from Thrive Marketing Strategies, website hosting and services from Lieberman Technologies, scholarships from the Growth Alliance for Greater Evansville, legal services from Law Office of Doug Briody, an exclusive interview with Evansville Podcast, priority consideration for the Indiana University Maurer Intellectual Property Clinic, an exclusive pitch opportunity at Evansville Tech-On-Tap, and financial consulting from Solomon CFO Solutions.
For more information, go to www.bit.ly/startupevv. You also can follow Startup Weekend Evansville on Twitter @StartupEvv and on Facebook at Facebook.com/StartupWeekendEvv.