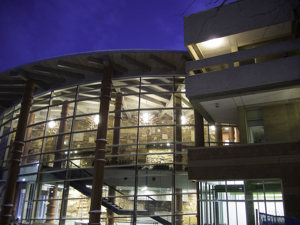 University of Southern Indiana Theatre will kick off the spring 2016 season with Tom Stoppard's Arcadia. The production is a collaboration between New Harmony Theatre and USI Theatre running February 18-21 in the USI Performance Center.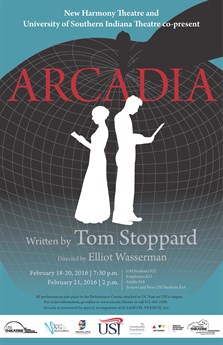 Directed by Elliot Wasserman, Arcadia takes us back and forth between the nineteenth and twentieth centuries, telling the story of the lives of the Coverly family in Derbyshire, England. Tom Stoppard examines Mathematics, romance, Lord Byron and other ideas and feelings contributing to the goings-on in the past, as two academics attempt to unravel them in the present.
Wasserman will be joined by a design team including USI faculty members Shan Jensen as costume designer and Paul Weimer as scenic designer, USI student Nick Smith as lighting designer and facilities coordinator Kevin Gray as sound designer and music composer. USI and New Harmony Theatre would also like to welcome back Brittany K. Giles-Jones, member of Actors' Equity Association, as production stage manager.
The cast includes professional Actors' Equity Association members Melissa Carlile-Price as Hannah Jarvis and Richard Price as Bernard Nightingale. They are accompanied by USI students Katie Jones, Cameron Ward, Noah Blaise Theriac, Nolan Spinks, Aaron Nulton, Morgan Book, Luke Bockelman, Aimee Grace, Collin Culiver, Samuel Dawson, Tamarea Kramer and Brock Murray.
Tickets are $12 for USI students, $18 for adults, $15 for USI employees and $16 for seniors (60+) and non-USI Students. Shows start at 7:30 p.m. Thursday through Saturday and 2 p.m. for the Sunday matinee. To purchase tickets or for more information visit USI.edu/Theatre or call the box office at 812-465-1668. Follow us on Facebook at USITheatre and NewHarmonyTheatre, Twitter @TheatreUSI, and Instagram @USI_theatre for updates and photos.
USI Theatre will finish the 2015-2016 season with The 25th Annual Putnam County Spelling Bee, with music and lyrics by William Finn, book by Rachel Sheinkin and conceived by Rebecca Feldman, running April 14-17. Tickets are on sale now.
Arcadia contains adult language and gun shots.