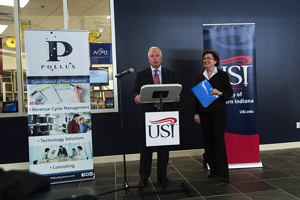 The University of Southern Indiana and Pollux Systems, Inc. have announced the signing of a memorandum of understanding (MOU) which details a five-year, multi-faceted partnership that will strengthen the Evansville region's role in the medical claims processing sector. The announcement was made Wednesday, March 2, at a joint press conference in USI's Business and Engineering Center.
"Our partnership with Pollux will be a public-private, learning exchange in a field that will make it distinctive," said USI President Linda L. M. Bennett. "We look forward to our important work together which will add dimension to current USI degree programs, provide experience in the industry for faculty and students and give Pollux management access to expertise on campus."
The current state of and projected growth for the medical claims processing industry, available workforce in the Evansville region, and the forward-looking vision of Pollux and USI create an ideal opportunity for the collaboration. The partnership is aimed at enhancing interdisciplinary opportunities and competencies of students, fostering applied research opportunities for faculty members, facilitating innovative business practices within Pollux, and supporting the expansion of the medical claims processing industry in the Evansville region.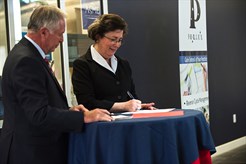 "I believe this partnership between USI and Pollux will be a landmark model for not only enhancing competencies for students and instructors, but also for creating well defined pathways for economic development in Evansville," said Paul McGowan, owner and CEO of Pollux. "We are very proud to be partnering with Dr. Bennett and her team in the continuous development and execution of this revolutionary collaboration."
Pollux has long-range plans to create a medical coding center in Evansville, one of the first in the United States. The center would offer a unique business model as much of the industry currently ships its data offshore to be processed.
Pollux will work with both USI's College of Nursing and Health Professions and Romain College of Business. The collaboration will include three components including USI faculty internships, a Pollux satellite office located in the Business and Engineering Center, and an intentional, competency-based pathway internship for students in both business and health professions.
USI Faculty Internship
Under the new partnership, USI will select one or more faculty members (either in the Romain College of Business or the College of Nursing and Health Professions) to work alongside Pollux on projects drawing on project management, risk analysis and other skills relevant to the revenue cycle management industry.
Internships for Students
USI also will select students in business and health professions to participate in the program through competency-based pathway internships. Those internships are made possible in part through a grant from the Lilly Endowment. The first internships could be offered as early as summer 2016, and would give USI students in management, computer information systems, health administration and other health programs, opportunities to understand and have experience with revenue cycles and the medical coding industry.
Pollux Satellite Office
Pollux will establish and maintain a satellite office within USI's Business and Engineering Center. The office would help to facilitate the educational component as well as collaboration with faculty and students on the creation of tracks to integrate with existing programs that would prepare students for a wider range of career opportunities. Plans call for the office to be opened in fall 2016.
Pollux was established in Paducah, Kentucky, in 1989, where it provided medical billing services to a local radiology group. The company has since grown and extended its reach, including the opening of an Evansville office, which now serves as its headquarters.