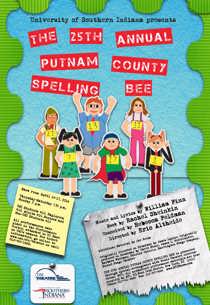 University of Southern Indiana Theatre will close its 2015-2016 season with the musical The 25th Annual Putnam County Spelling Bee with music and lyrics by William Finn, book by Rachel Sheinkin and conception by Rebecca Feldman. The production runs April 14-17 in the USI Performance Center located in University Center East.
Directed by Eric Altheide, an eclectic group of six mid-pubescents vie for the spelling championship of a lifetime. While candidly disclosing hilarious and touching stories from their home life, the tweens spell their way through a series of (potentially made-up) words hoping to never hear the soul-crushing, pout-inducing, life un-affirming "ding" of the bell that signals a spelling mistake. Six spellers enter, one speller leaves! 
Altheide will be joined by a design team including USI faculty member Paul Weimer as scenic designer; USI staff member Kevin Gray as sound designer; and USI students Rachel Thomas as lighting designer, AJ Jones as costume designer and Alex York as production stage manager. Spelling Bee's production also includes community members Patrick Ritsch as music director and Ashley Frary Lutz as choreographer.
The cast of Spelling Bee includes USI students Alec Willis, Emily March, Craig Belwood, Nick Smith, Briana Weaver, Maggie Browne, Ashleigh Dulik, Austin Tenbarge and Enjoli Drake.
Tickets are $10 for USI students, $12 for USI employees, $13 for non-USI students and seniors (60+), and $15 for adults. Shows start at 7:30 p.m. Thursday through Saturday and 2 p.m. for the Sunday matinee. To purchase tickets or for more information visit USI.edu/Theatre or call the box office at 812-465-1668. Follow us on Facebook at USITheatre and NewHarmonyTheatre, Twitter @TheatreUSI, and Instagram @USI_theatre for updates and photos.
Tickets are also now on sale for New Harmony Theatre's 2016 season. New Harmony Theatre kicks off the summer season with Other Desert Cities by Jon Robin Baitz, running June 17-26. For more information on the remainder of the New Harmony Theatre season visit www.usi.edu/nht or call 812-682-3115.
Spelling Bee contains adult language.