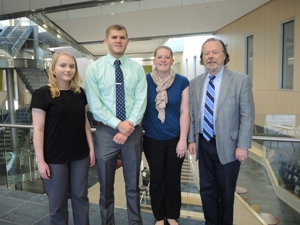 A team of four students from the University of Southern Indiana's Romain College of Business placed as a finalist in the 2016 Community Bank Case Study Competition. The team is made up of finance majors Abigail Bridges, Caitlin Chestnut, Joseph Thouvenot and management major Benjamin Peyronnin. Charles Kelly, instructor in finance, served as the faculty advisor.
The USI team was one of 23 teams from 20 universities that participated in the competition, which is sponsored by the Conference of State Bank Supervisors (CSBS), a nationwide organization of banking regulators. This is the second year for the competition and the first year for a team from USI to participate.
Undergraduate teams partnered with local community banks to conduct original case studies evaluating the local economic impact of community banks. The USI team partnered with First Federal Savings Bank in Evansville, Indiana. The case studies assess the impact of the financial institution's small business lending efforts on the community, analyze how the institution's small business lending affects financial performance, and evaluate the institution's management of small business lending. Each team submitted a case study and video, which judges used to select the finalists.
Mike Head, CEO of First Federal, USI alumnus, and member of the Romain College's Board of Advisors, worked with the USI students along with a team of the bank's executives. He observed, "It is always interesting to learn the perspective of other people, especially those members of the next generation who may become employees of the bank in the future; collaborating with the USI student team provided a forum for a very productive exchange of views."
"We appreciate First Federal's willingness to collaborate with our students on the case competition," said Dr. Mohammed Khayum, dean of USI's Romain College of Business. "This experience provided students with tremendous learning opportunities and is another example of the value of the partnership between First Federal Savings Bank and our Romain College of Business."
This was the first time Charles Kelly coached a business case team. His background in finance and entrepreneurship made him a natural fit. "This was a terrific group of highly motivated students to guide through the process of learning more about small business lending in a community bank environment," he pointed out. "First Federal gave the team a unique view into ways that small business lending can have positive impacts on the community as well as on the bank's performance."
Competition finalists will have their case studies published in the "Community Banking in the 21st Century: Opportunities, Challenges and Perspectives" yearly report that is released at the CSBS-Federal Reserve Community Banking in the 21st Century Research and Policy Conference each year.