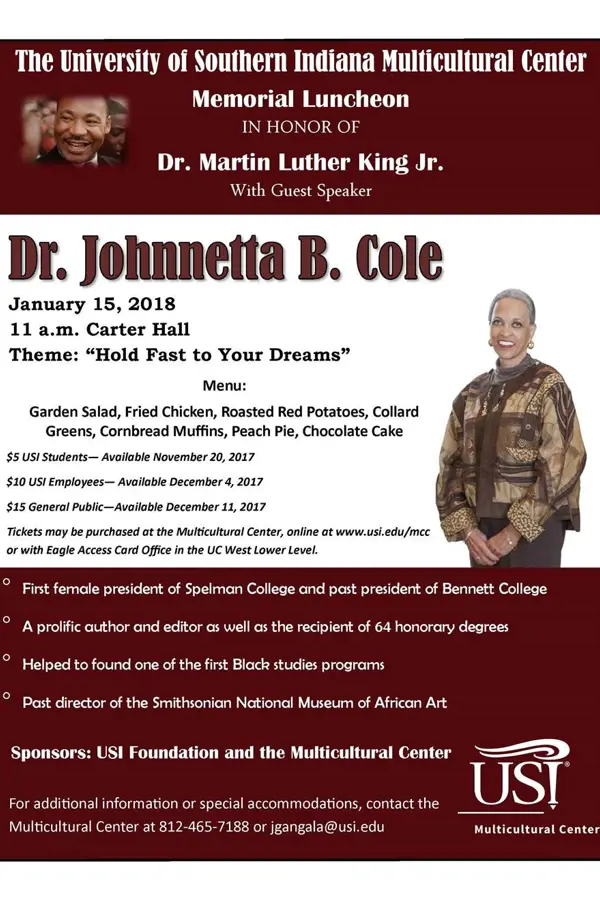 Annual Martin Luther King, Jr. Luncheon to feature keynote from Dr. Johnnetta Cole
Dr. Johnnetta Cole, president emerita of Spelman College and Bennett College for Women and past director of the Smithsonian National Museum of African Art, will be the keynote presenter at the University of Southern Indiana's annual Dr. Martin Luther King, Jr. Memorial Luncheon at 11 a.m. Monday, January 15, 2018, in Carter Hall.
A principal consultant with Cook Ross, Inc., Cole works with organizations in the areas of diversity, inclusion, cultural competency, leadership development and organizational change management. After holding teaching and administrative positions in anthropology, women's studies and African American studies at several colleges and universities, she served as the president of both of the historically black colleges for women in the United States, a distinction she alone holds.
Cole was the first African American to serve as the chair of the board of United Way of America. She formerly served on the corporate boards of Home Depot, Merck and Nation's Bank South, and was the first woman to serve on the board of Coca-Cola Enterprises. She currently co-chairs the American Alliance of Museum's Working Group on Diversity, Equity, Accessibility and Inclusion. She is a fellow of the American Anthropological Association and a member of the National Academy of Arts and Sciences. She earned a doctoral degree in anthropology from Northwestern University.
The annual Dr. Martin Luther King, Jr. Memorial Luncheon features a prominent, successful African American keynote speaker and attracts a large crowd from throughout the community. The luncheon encourages and inspires attendees to continue working for the cause of racial equality, for which King gave his life. The event is sponsored by the USI Foundation and the USI Multicultural Center and will include entertainment by student and community groups.
Tickets are available now and may be purchased online or at the USI Multicultural Center, located at Room 1224 in University Center East. Tickets are $5 for USI students, $10 for USI employees and $15 for the general public. Call 812-465-7188 or visit USI.edu/mcc for more information.