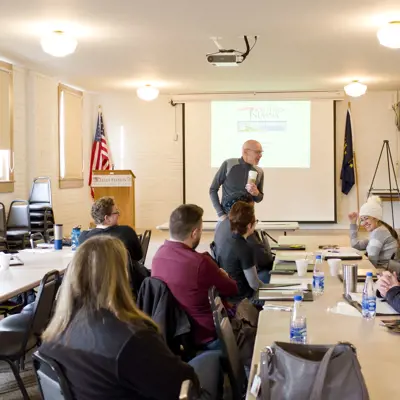 Twelve selected for 2018 USI community leadership program
Twelve southern Indiana residents have been selected to participate in the University of Southern Indiana's 2018 Connect with Southern Indiana program. Now in its 12th year, Connect with Southern Indiana is focused on promoting active citizenship for individuals across a nine-county region in southwest Indiana.
The program is in its sixth year of partnering with the Romain College of Business Entrepreneurship Initiative for course content. Participants will attend 10 full-day sessions focusing on divergent and analytical thinking, idea generation, communication and strategic entrepreneurship from a community development perspective. They will develop and pitch collaborative projects aimed at improving the region.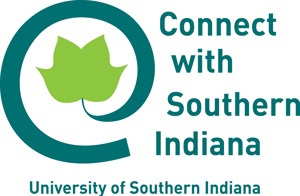 In 2017, Connect with Southern Indiana participants worked with New Harmony Conversations to develop five health care projects aimed at increasing the use of advance directives in the region. Participants presented the projects at the inaugural Advance Care Planning in the State of Indiana Conference. This year's Connect with Southern Indiana class will work with the Vanderburgh County Health Department to develop innovative solutions for health care problems impacting southwest Indiana.
The Connect with Southern Indiana program is open to current USI students, faculty and staff, and Indiana residents living in Dubois, Gibson, Knox, Perry, Pike, Posey, Spencer, Vanderburgh or Warrick counties who would like to improve the quality of life in their communities.
The 2018 class includes:
Dubois County:                                                    
Jenelle Himsel, Personal Lines Service Manager, German American Insurance
Gibson County:
Laura Anderson, Technical Training Supervisor, Vectren
Posey County:
Amber Wells, Program Management Senior Analyst, Vectren
Spencer County:
Kristi Brown, Administrative Officer, Lincoln Boyhood National Memorial
Vanderburgh County:
Jalessa Eskridge, Development Associate, Carver Community Organization
Gena Garrett, Curator of Educator, Wesselman Nature Society
Katie Heilman, Senior Chemist, AstraZeneca Pharmaceutical
Laura O'Leary, Administrative Coordinator, EVSC Foundation, Inc.
Brushell Solorzano, Graduate Assistant, USI Undergraduate Admissions
DeAndre Wilson, Cook, Tropicana & Owner, TurnTable, LLC
Warrick County:
Lori Barnett, Executive Assistant, Optimal Rhythms Music Therapy
Ryan Bixler-Rigg, Community Development Manager, American Cancer Society
For more information on the Connect with Southern Indiana program visit USI.edu/connect or contact Leslie Townsend, director of Community Engagement, at ltownsen@usi.edu.