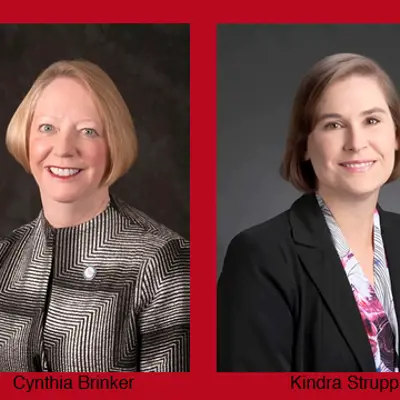 Changes to senior leadership announced at USI
University of Southern Indiana president Linda L. M. Bennett has announced that Cynthia Brinker, vice president for University and Government Relations, will serve in the elevated role of senior vice president for Government Relations effective immediately. Brinker will work with the incoming president to coordinate a transition plan for government affairs responsibilities for the University. Brinker will serve in this assignment until her scheduled retirement on June 30, 2018.
Bennett has also announced the appointment of Kindra Strupp as vice president for Marketing and Communications at USI. She assumes her duties immediately and reports to the president.
As vice president for Marketing and Communications, Strupp will provide strategic leadership for University branding and licensing; marketing and advertising; University Communications-internal and external, including media relations, social media, public relations, and Photography and Multimedia; and Creative and Print Services, including graphic design, client services and the USI Copy Center. She will also oversee Athletic Communications; Web Services; Special Events and Scheduling Services; University Relations; and Alumni Relations and Volunteer USI.
"One of the first priorities for the new president will be to fill the government relations position and prepare for the 2019-2021 budget," said Linda L. M. Bennett, USI president. "Vice president Brinker is well respected for her professionalism and persistence as USI's government liaison. As senior vice president for Government Relations, Brinker will assist in a smooth transition at a critical time. Kindra Strupp has served as assistant and associate VP for five years, has made a significant impact on the University, and knows the operational landscape of the division she will now lead," said Bennett. "These changes will help to ensure stability as we welcome a new president."
Strupp joined the University in January 2013 as assistant vice president for Marketing and Communications and was promoted to associate vice president for Marketing and Communications in July 2016. Prior to joining USI, she worked for Eli Lilly and Company, a global pharmaceutical company headquartered in Indianapolis, and served in corporate and executive communications, as well as international and domestic roles for several of the company's well-known, marketed products. Additionally, Strupp was an on-air television anchor and reporter for WTVW and WEVV in Evansville. She holds bachelor's degrees in journalism and psychology from Indiana University.