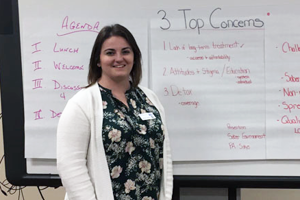 The first student admitted into the Health Informatics and Information Management (HIIM) program in the College of Nursing and Health Professions has not only adapted to the academic requirements of the new curriculum, but is also gaining real world experience that is helping her in her career path and making her a role model for others in the field.
Jaelyn Smith, a senior at the University of Southern Indiana, started taking courses in the HIIM program in Fall 2017 after completing the necessary pre-HIIM coursework. Eager for opportunities in her new career path, she asked the program chair, Dr. Gabriela Mustata Wilson, about internships or part-time job opportunities in the field of health informatics.
"Before I knew it, Dr. Wilson sent me more information and the link to apply for an AmeriCorps service project," said Smith. In December 2017, she secured a full-time AmeriCorps position with "United Against Opioids," working with the Vanderburgh County Health Department in conjunction with the United Way of Southwestern Indiana and the Mayor's Task Force Against Substance Abuse. In her role, she gathers and compiles data related to the opioid crisis in Vanderburgh County. She will use the data to create an asset map to serve as an opioid resource guide in the community.
Smith recognizes a useful link between the AmeriCorps service and her HIIM coursework. "AmeriCorps requires me to manage and analyze a lot of data, which directly links to health informatics and information management," she said. "Being in USI's program, I have developed many skills when it comes to the best way to collect data, analyze it, and report it in a simple way. I have also learned how to communicate in the professional world, which has been critical in this service."
Dr. Kenneth Spear, health officer at the Vanderburgh County Health Department, sang the praises of the USI student. "Jaelyn is amazing! She is doing a great job with the data," he said. "She is so professional, attends all meetings, and presents the data in a concise manner. She is a Godsend!" 
His positive comments were echoed by Amy Canterbury, president and CEO of United Way of Southwestern Indiana. "Thank you for sending Jaelyn my way," she said. "She has amazing communication skills, attention to detail, and the ability to work in a group and independently."
Now Smith wants to be a role model for others. She has advice for peers looking to transition into the emerging field health informatics. "Don't wait! In my short few months serving with AmeriCorps and United Way of Southwestern Indiana, I have been approached by individuals across many disciplines sharing with me how important this data collection is and how excited they were for this service project," she said. "There are so many ways you can get involved in health informatics, and transitioning into the USI Health Informatics and Information Management program was the best decision I have ever made."