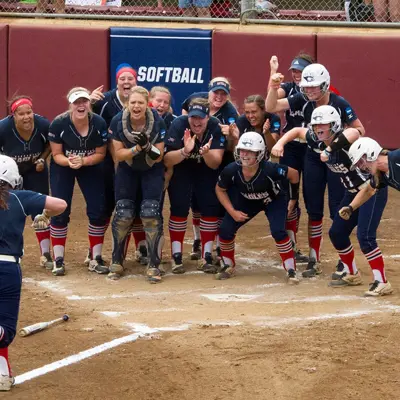 2018 National Champion USI Softball homecoming rally
Fans encouraged to attend parade/celebration at 2 p.m. Wednesday, May 30
Join the University of Southern Indiana family as it hosts a celebration to honor and welcome home its 2018 NCAA Division II National Champion Softball team at 2 p.m. Wednesday, May 30 at the Physical Activities Center (PAC) on the USI campus. Add to your calendar. What an exciting day for the University and for USI Athletics!
Wednesday will be an official USI Spirit Day, so grab your favorite University spirit wear to show your ScreaglePride as we welcome the team back to campus.
USI Softball captured its first national championship, and the first women's team sport national championship in school history, when it defeated the Saint Anselm Hawks in two straight games on Monday, May 28, in the NCAA Division II National Championship Finals in Salem, Virginia. USI is the first collegiate team in Indiana to ever win an NCAA national softball championship. Read more at GoUSIEagles.com.
The team motorcade with fire trucks and police escort will arrive on the USI campus just before 2 p.m. Fans are encouraged to gather in front of the PAC at around 1:45 p.m. to welcome the team back to campus. In the case of rain, the welcome reception will all take place indoors at the PAC.  
Following the procession, a welcome rally and brief ceremony will take place at 2 p.m. in the PAC, including a presentation of the National Championship Trophy to the team. Players and coaches will be available for comment and autographs following the celebration, which will include players, Coach Sue Kunkle, Athletic Director Jon Mark Hall, students, fans, USI President Linda L. M. Bennett, University officials and local dignitaries.
Official 2018 National Championship T-shirts and hats are currently available for order online at the USI Campus Store. Additional order forms will be available at the event.
See photo gallery of USI Softball's championship winning game