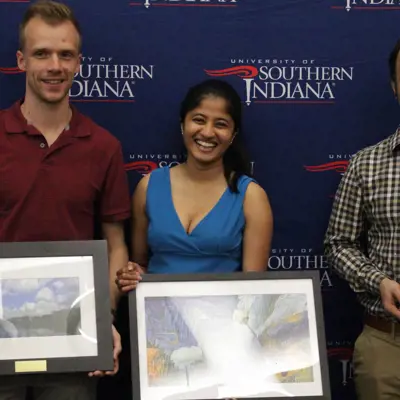 USI names Peace Ambassador, Outstanding International Graduates
Three international students at the University of Southern Indiana are being recognized for their contributions to cultural awareness and their leadership and academic accomplishments. The Peace Ambassador and Outstanding International Graduate awards were presented by USI's Center for International Programs at its annual recognition ceremony for international student graduates.
Peace Ambassador Award
Sulaiman Okairy '16 is this year's recipient of the Peace Ambassador Award recognizing an outstanding international student whose actions and involvement in campus and community life have contributed to greater cross-cultural awareness and to increased understanding of the world, its peoples and its traditions. Okairy, a native of Saudi Arabia who received a bachelor's degree in computer information systems and is pursuing a Master of Business Administration degree, was recognized for his efforts to provide a greater understanding of Saudi culture to the USI community, as well as assisting other Saudi students with the application and transition to studying at USI.
His faculty nomination stated, "Sulaiman is a kind man. I can't stop praising him. He is truly a gifted, sincere and dedicated ambassador for Saudi Arabia."
Outstanding International Graduate Award
Tharushi Wattewewa '18 and Bastian Grau M'18 are the recipients of the Outstanding International Graduate Award recognizing international students with outstanding leadership skills and academic achievement upon graduation from USI. This year, awards were given to both an undergraduate and graduate student.
Wattewewa, a native of Sri Lanka, received a bachelor's degree in French studies and international studies during the spring 2018 Commencement Ceremony. Her faculty nomination stated that she "has demonstrated exceptional leadership at USI, serving as the president of the French Club for the past two years, and as secretary and treasurer with the national honor society, Alpha Mu Gamma. She has helped organize countless events ranging from conversation tables, film nights, and study hours to fundraisers."
Grau, a student from Germany and 2017 NCAA Division II national champion in the indoor mile, received a master's degree in sport management. His nomination stated said that Grau "has an incredible work ethic, not only with his sport but in the classroom. He shows a tremendous amount of leadership for his team. He has not only represented his University at a national level, but has provided service and an outstanding academic record."
Recognition of Global Ambassadors
Additionally at the ceremony, USI provost Dr. Ronald Rochon recognized graduating recipients of the Global Ambassador Scholarship for their academic distinction, leadership and service upon completion of their degree programs. The recipients were:
Gi Loc Duong M'18, Vietnam - Master's in Public Administration
Gloria Sengwe '18, Zimbabwe - Bachelor's degree in Economics
USI currently hosts 15 Global Ambassadors from Albania, Bolivia, Ghana, Ivory Coast, Mexico, Venezuela, Vietnam and Zimbabwe. 
For more information about the Center for International Programs, visit USI.edu/international.