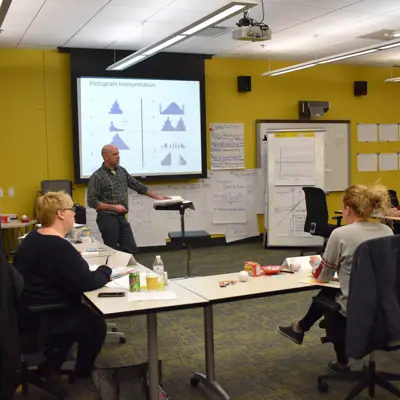 USI offering new problem-solving class to community
University of Southern Indiana's Lifelong Learning is now offering Simplex 1.0 and 2.0 Solving Complex Problems courses September 10 through 12 at Innovation Pointe. Both classes will be instructed by Dr. Timothy Dickel, president of Mater Dei High School.
Simplex 1.0 will meet from 8 a.m. to 5 p.m. Monday, September 10 and 8 a.m. to Noon Tuesday, September 11. Simplex 2.0 meets from 1 p.m. to 5 p.m. Tuesday, September 11 and 8 a.m. to 5 p.m. Wednesday, September 12.
The Simplex method is a tool for teams of all sizes to use in solving problems and/or arriving at creative solutions to challenges. This method is not only used in the Evansville area but by numerous companies and organizations, including Fortune 500 companies, government entities, nonprofits and health care centers.
"This approach is great for organizations that recognize the value of collaborative problem solving and want to develop these skills in their employees and throughout the organization," said Dickel.
Participants in Simplex 1.0 will gain proficiency in applying creative-thinking skills such as diverging, converging and deferral of judgment and understanding and executing the innovation process.
Simplex users interested in becoming facilitators of the process are recommended to take Simplex 2.0. Participants will learn how to lead a group through the eight steps that ask "How might we". Participants will also gain an understanding of effective team structures, models of team development and the support of ongoing teams.
To register for Simplex 1.0 or 2.0 visit USI.edu/Simplex1 or USI.edu/Simplex2.
By Delaney Somers, USI Opportunity Development Communications Intern