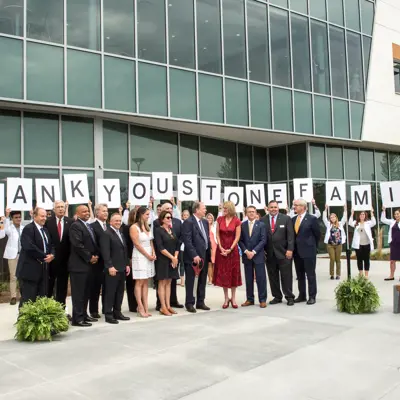 Stone Family Center for Health Sciences opens to students, community
The University of Southern Indiana, alongside the Indiana University School of Medicine and the University of Evansville, officially marked the opening of the Stone Family Center for Health Sciences at a ceremony in downtown Evansville on Thursday, August 9. USI classes in the Stone Center will begin with the start of the fall 2018 semester on Monday, August 20.
"This is a momentous day for our higher education institutions, for Evansville and the region," said USI president Dr. Ronald Rochon in remarks during the ceremony. "We strive to shape future role models through learning and innovation...and are confident that the future of the healthcare offered in our community is bright."
A collaborative effort between the three universities, the Stone Center will hold the Indiana University School of Medicine - Evansville as well as programs for both the University of Evansville and USI. More than 250 USI graduate-level students in the Masters of Science in Occupational Therapy, Masters of Science in Nursing and Doctor of Nursing Practice programs, and 120 undergraduate, senior nursing students will utilize the Stone Center.
Bill Stone, along with his wife Mary, donated $15 million in support of the mission and collaboration between the Universities and hospital partners. Stone, an Evansville native, founded Connecticut-based SS&C Technologies, Inc. in 1986 and has remained chairman of the board and chief executive officer since inception. All monies from the gift will be used to support the respective health sciences programs developed and implemented in the center by the three partner institutions.
"We have seen the benefit collaboration has on our students across all disciplines, and this building allows all of us to take that collaboration to new heights," said Dr. Ann White, dean of the USI College of Nursing and Health Professions. "The entire region is going to receive better health care from highly qualified health professionals because of the vision of the institutions and the generosity of the Stone family."
USI's space will include the Dr. Victor V. Schriefer, Jr. classroom in recognition of a generous gift from Schriefer, a longtime University friend, USI Foundation Life Director, member of the President's Circle and recipient of an honorary Doctor of Science degree in 2008.
Additional speakers at the ceremony included Stone, Lieutenant Governor Suzanne Crouch, Indiana University president Michael McRobbie, University of Evansville president Christopher Pietruszkiewicz, Evansville mayor Lloyd Winnecke, Indiana University School of Medicine - Evansville director and associate dean Dr. Steven Becker, Indiana University School of Dentistry dean John Williams, Jr., Indiana University trustee Pat Shoulders, VPS Architecture president Sarah Schuler and Old National Bank chief executive officer Bob Jones.