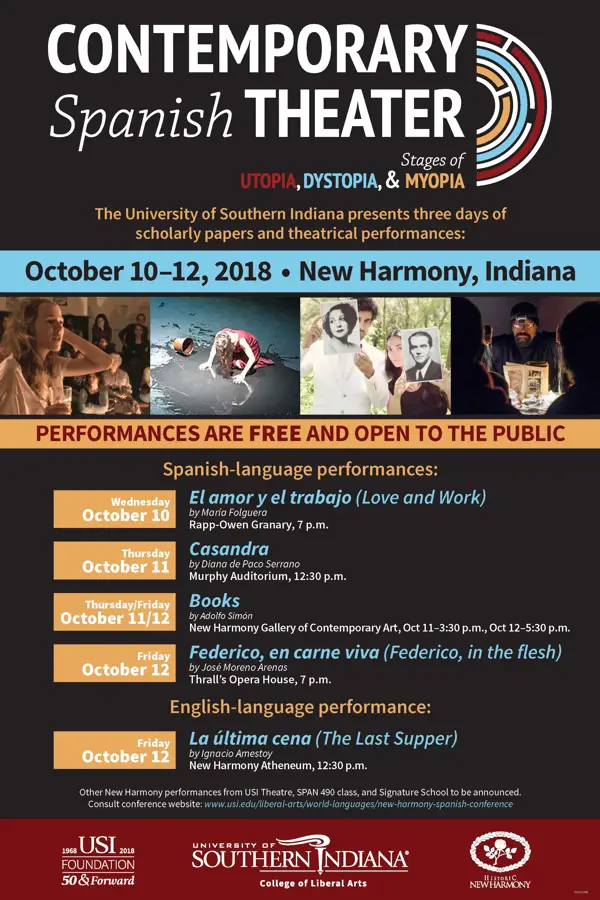 New Harmony to host contemporary Spanish theatrical productions as part of international conference
The University of Southern Indiana will host productions of several plays from the contemporary theater of Spain from Wednesday, October 10 through Friday, October 12 in various locations throughout historic New Harmony, Indiana. All performances will be free and open to the public as space permits.
Performances that are open to the public include:
5 p.m. Wednesday, October 10 in the Atheneum Theater: La piedra oscura (Dark Stone), by Alberto Conejero in English translation by Gregary Racz. Directed by Brennen Hobson.
7:30 p.m. Wednesday, October 10 in the Rapp-Owen Granary: El amor y el trabajo (Love and Work), by María Folguera. Performed by the author and Michela Depetris. Directed by the author. This production contains adult content and is not suitable for audience members under 18 years of age.
12:30 p.m. Thursday in Murphy Auditorium: Casandra, by Diana de Paco, performed by Marina Miranda, directed by Miguel Cegarra and produced by Tríade Teatro of Seville, Spain.
12:30 p.m. Friday, October 12 in the Atheneum Theater: La última cena (The Last Supper), by Ignacio Amestoy in English translation by Dr. David Hitchcock, USI associate professor of Spanish. Performed and directed by Chuck Leonard and Benjamin Maderi.
7 p.m. Friday, October 12 in Murphy Auditorium: Federico, en carne viva, by José Moreno Arenas and performed by Elena Bolaños and Rubén Carballés of Apasionaria Teatro of Seville, Spain. Directed by Elena Bolaños. This production also includes an anthology of short comic plays called "pulgas," or "fleas," by various artists.
Dark Stone and The Last Supper will be performed in English and El amor y el trabajo, Casandra, and Federico, en carne viva will be performed in Spanish with provided English synopses.
Admission is free, but audience members are encouraged to register online in order to ensure proper seating is made available. Registration can be found at the USI Outreach and Engagement website. For more information about registration, contact Ashley Watson, marketing coordinator for Outreach and Engagement, at aawatson@usi.edu.
These performances are part of the inaugural New Harmony International Conference on Contemporary Spanish Theater, a three-day scholarly conference combining paper presentations and theatrical performances produced by local, regional, national, and international participants. More information about the conference, including the full program, can be found on the USI website at usi.edu/liberal-arts/world-languages/new-harmony-spanish-conference/. For more information about the conference or any of the performances, contact Hitchcock at dhitchcoc@usi.edu or 812-461-5380.