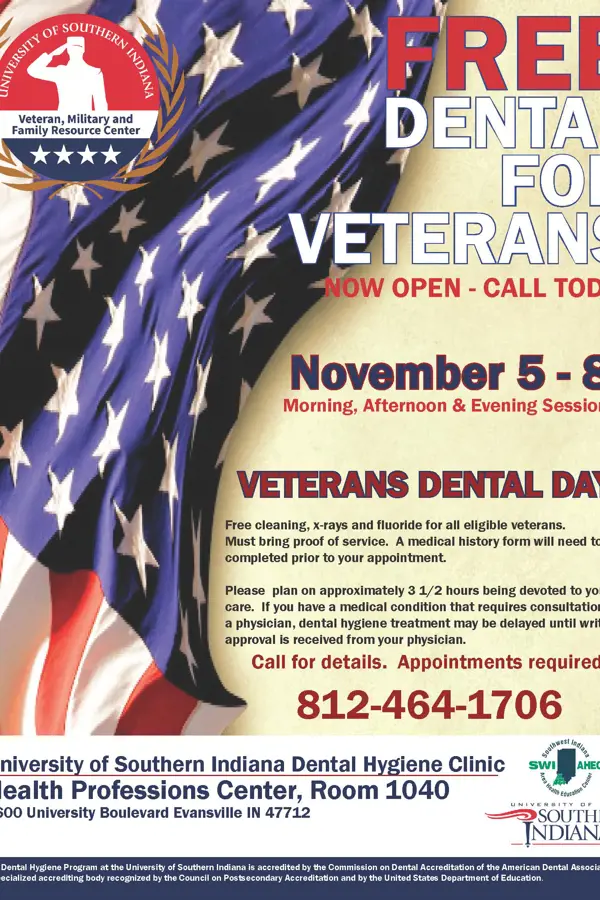 USI Dental Hygiene Clinic to repeat free dental cleanings for veterans
The University of Southern Indiana Dental Hygiene Clinic will provide free dental cleaning, fluoride and X-rays for military veterans on November 5, 7 and 8, 2018. In an attempt to serve more veterans, the USI Dental Hygiene Program will schedule appointments during both day and evening hours.
 "Last academic year, USI students addressed the dental hygiene needs of 252 veterans during these designated clinic sessions. We expect this year's appointments to again book very quickly," said Joel Matherly, manager of the Veteran, Military & Family Resource Center at USI. "Oral health care is a tremendous need across the area, and we appreciate how the USI Dental Hygiene Clinic has responded specifically to the needs of local veterans." 
The USI Dental Hygiene Program collaborates with Southwest Indiana Area Health Education Center (SWI-AHEC) and USI's Veteran, Military & Family Resource Center to offer these special clinic hours for veterans. USI Dental Hygiene faculty will supervise the students who will be working in the clinic.
Appointments are required and can be made by calling 812-464-1706. Proof of military affiliation and a picture identification is required.
The USI Dental Hygiene Clinic is located on the USI campus in the Health Professions Center Room 1040, 8600 University Boulevard, Evansville, Indiana 47712.
The Dental Hygiene Program at the University of Southern Indiana is accredited by the Commission on Dental Accreditation of the American Dental Association, a specialized accrediting body recognized by the Council on Postsecondary Accreditation and by the United States Department of Education.
Southwest Indiana AHEC began as a regional center in 2008, and it is hosted by the University of Southern Indiana in the College of Nursing and Health Professions. SWI-AHEC is part of a national network with a mission to improve health by leading the nation in the recruitment, training and retention of a diverse health workforce for underserved communities.