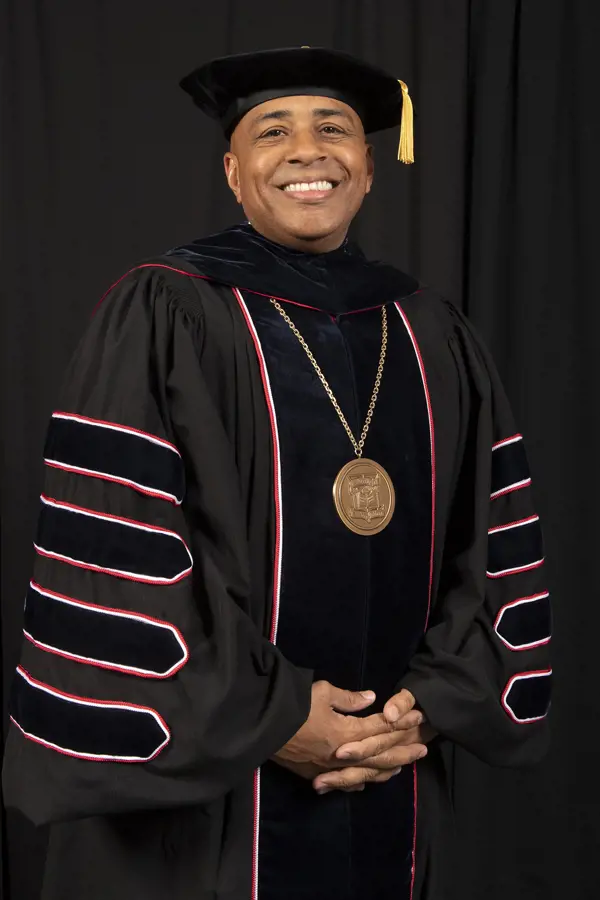 USI holding inauguration of fourth president, Ronald S. Rochon, April 5
RSVPs requested by Friday, March 1
The public is cordially invited to attend the inauguration of Ronald S. Rochon as the fourth president of the University of Southern Indiana at 10:30 a.m. Friday, April 5 at the newly-opened Screaming Eagles Arena on USI's campus (Guests should be seated by 10:15 a.m.).
Attendance is free and seating will be open, but guests who plan to attend the ceremony are asked to RSVP at USI.edu/inauguration by Friday, March 1. Following the ceremony, a luncheon for all guests will be held in the Recreation, Fitness, and Wellness Center, located adjacent to the Arena.
The ceremony, with a theme of "Building Community by Celebrating Diversity, Engagement, and Service," will highlight the University's impact on its students and alumni, as well as the local and global communities. As part of the ceremony, presidents and other delegates of colleges and universities from around the country will participate, along with USI students, faculty, alumni and other special guests. Processional participants will wear traditional academic regalia, many wearing the colors of the institution they represent or graduated from.
Additional guests include, but are not limited to the governor of the State of Indiana, military generals, USI trustees, mayor of Evansville, members of the Indiana Commission for Higher Education, former USI presidents and other University representatives.
The official inauguration ceremony will serve as a culmination of inauguration events held throughout the week beginning Sunday, March 31. On Thursday, April 4, Gen. Colin Powell, USA (Ret.) will present a conversation on leadership moderated by Rochon. These events will also be the first public events to be held in the new, 4,800-seat Screaming Eagles Arena.
For more information, a complete list of inauguration events, to RSVP, or to leave congratulatory remarks, visit the inauguration website at USI.edu/inauguration.
If you require disability-related accommodations to fully participate, contact Special Events at 812-464-1930 or email inauguration@usi.edu by March 1, 2019.