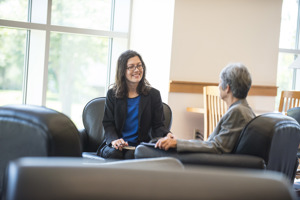 The Indiana Commission for Higher Education has approved two new Post-Baccalaureate Certificates in Instructional Communication and Advanced Instructional Communication to be offered by the University of Southern Indiana College of Liberal Arts Communications Department. Both certificate programs will begin in the fall 2020 semester.
"Communication plays a pivotal role in everything we do in the classroom," said Dr. Sally Vogl-Bauer, chair of the Communications Department and associate professor of communication studies. "The Instructional certificates are designed to increase educators' expertise in specific communication principles proven to enhance classroom instruction."
The Instructional Communication Certificate is a 12-hour graduate certificate program for educators and professionals looking to improve their communication in an instructional or training and development context. The course consists of two required courses and a selection of electives, all of which are offered and taught as part of the Master of Arts in Communication Program.
"When we surveyed the region, we learned there was enormous interest from those in business and industry, such as human resources managers, who were looking to strengthen their job performance," said Dr. Leigh Anne Howard, graduate director of the Communication Program at USI. "We also discovered teachers from a variety of academic disciplines who sought ways to improve the communication in their classrooms and across various administrative levels. This 12-hour instructional certificate is aimed to help them achieve these goals."
The Advanced Instructional Communication Certificate is an is an 18-hour graduate certificate program aimed at those with a master's degree in an area other than communication, and who wish to teach communication at the secondary or university-level. This program will be of particular interest to high school public speaking, journalism and radio/television instructors with master's degrees who are seeking the credentials to teach dual credit courses at their high school. The program consists of an additional required course and an additional elective alongside the requirements for the Instructional Communication Certificate.
Both certificates will be offered online and classes in both programs will be offered once per year. Potential students may register for either of the certificate programs independently, or embed the certificate into the coursework for the Master of Arts in Communication Program and obtain both the degree and certificate simultaneously.
For more information, contact Dr. Erin Gilles, interim director of the Master of Arts in Communication Program, at eegilles@usi.edu.