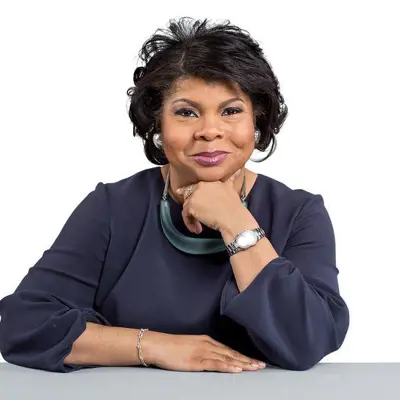 White House reporter, author April Ryan to keynote 2020 USI Martin Luther King, Jr. Luncheon
April Ryan, journalist, political correspondent and award-winning author, will provide the keynote address at the University of Southern Indiana's annual Martin Luther King, Jr. Memorial Luncheon at 11:30 a.m. Monday, January 20, 2020 in Carter Hall located in University Center West on the USI campus.
Since 1997, Ryan has served as the only black female White House correspondent reporting on urban issues, covering four presidential administrations for American Urban Radio Networks as their Washington D.C. bureau chief. She was named the recipient of the Freedom of the Press Award by the Reporters Committee for Freedom of the Press in 2019, and Journalist of the Year by the National Association of Black Journalists in 2017. Ryan is one of only three African Americans in the White House Correspondents Association's over 100-year history to serve on its board and is also an esteemed member of the National Press Club.
Ryan's first book, The Presidency in Black and White: My Up-Close View of Three Presidents and Race in America (2015), received an Image Award from the NAACP. Her latest book, Under Fire: Reporting from the Front Lines of the Trump White House, was published in 2018, and details her experience as a presidential reporter in the current administration. She joined CNN as a political analyst in 2017, and regularly posts on her personal blog, Fabric of America. Ryan has a bachelor's degree in broadcast journalism from Morgan State University in her hometown of Baltimore, Maryland.
Tickets are now available for USI students and employees and will be available for the general public beginning Monday, December 16. All tickets may be purchased online on the USI website or in person at the USI Multicultural Center, located at Room 1224 in University Center East. Tickets are $5 for USI students, $15 for USI employees and $20 for the general public.
The annual Dr. Martin Luther King, Jr. Memorial Luncheon features a prominent, successful African American keynote speaker and attracts a large crowd from throughout the community. The luncheon encourages and inspires attendees to continue working for the cause of racial equality, for which King gave his life. The event is sponsored by the USI Foundation and the USI Multicultural Center and will include entertainment by student and community groups.
For more information, contact the USI Multicultural Center at 812-465-7188 or at USI.edu/mcc.