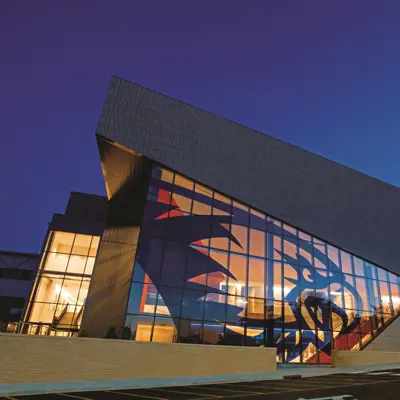 USI Spring 2021 Commencement Exercises to Be Held In Person 
Additional Ceremonies, Reduced Capacity, Tickets and Masks Required
The University of Southern Indiana will hold reduced capacity, in-person Commencement Exercises in the Screaming Eagles Arena over the weekend of May 7 - 9, 2021. Due to safety concerns related to the COVID-19 pandemic and the need to limit capacity, the University plans to host eight ceremonies instead of the traditional five. The additional ceremonies will reduce the number of graduates per ceremony to allow for adequate physical distancing.
Tickets will be required for guests and each graduate will be allowed two guests. Graduates and guests will be required to follow safety protocols including wearing a face covering, practicing good hand hygiene and adequate physical distancing when entering and leaving the Arena.
"Safety has guided our thinking since the beginning of the pandemic. As the number of COVID positive cases have been precipitously dropping in our community and vaccinations are being made available to more citizens, we are cautiously optimistic about holding in-person Spring 2021 Commencement Exercises," said Ronald S. Rochon, USI President.
"Celebrating our graduates' achievements with our entire community is always the best part of the academic year. We know that restricting the number of guests will be difficult for graduates, friends and families, but we will offer a live stream of the ceremonies for additional virtual participation. Drastically reducing density is our best option. Due to COVID conditions, we were forced to host an entirely virtual celebration last December. We will continue to consult with health officials as we approach May."
The in-person ceremonies are planned for the following dates and times:
Graduate Studies Ceremonies (masters and doctoral candidates)
Friday, May 7 - two ceremonies, 11 a.m. and 3 p.m. (Graduates should save the date and will be notified which ceremony to attend after registration.)

Undergraduate Ceremonies
Saturday, May 8 - three ceremonies


​​​​​​​

Romain College of Business, 9 a.m.
College of Liberal Arts, 1 p.m. and 5 p.m. (Graduates should save the date and will be notified which ceremony to attend after registration.)

Sunday, May 9 - three ceremonies

Pott College of Science, Engineering, and Education, 9 a.m.
College of Nursing and Health Professions, 1 p.m. and 5 p.m. (Graduates should save the date and will be notified which ceremony to attend after registration.)
In order to obtain an accurate count for each ceremony, graduates must register to participate in Commencement by 4:30 p.m. Tuesday, March 23. Graduates are asked to frequently monitor their USI email for important information, including access to the registration link. Following registration, graduates will be provided with an email containing a link to select two, reserved seating guest tickets. The guest tickets will be electronic tickets, or may be printed, and will be required for admission at the door. No additional tickets will be available. Face coverings must be worn for admission and at all times while in the Arena.
Ceremonies are anticipated to last up to one hour. Sufficient time is being allotted between ceremonies to allow for cleaning of the Arena.
Graduates are encouraged to regularly visit the Commencement website (www.usi.edu/commencement) for updated information.