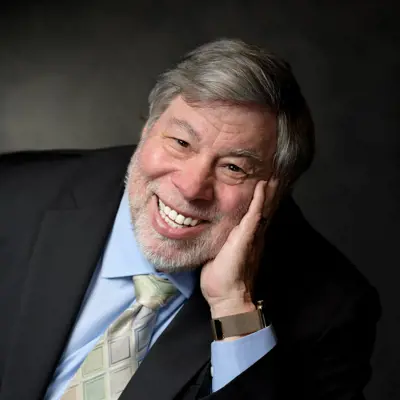 USI to host Apple co-founder Steve Wozniak "The Woz"
Event is part of the Romain College of Business Innovative Speaker Series
The University of Southern Indiana will present "Steve Wozniak in Person," a moderated discussion with Steve Wozniak, also known as "The Woz," at 7 p.m. Wednesday, March 30 in the Screaming Eagles Arena. Doors open at 5:30 p.m. The discussion is free and open to the public on a first-come, first-served basis. Reserved VIP seating is available for $100 per person by calling the USI Foundation at 812-464-1918. 
A technology entrepreneur and philanthropist for more than 40 years, Wozniak has helped shape the computing industry with his design of Apple's first line of products, the Apple I and II, while also having influence on the Macintosh. In 1976, Wozniak and Steve Jobs founded Apple Computer Inc. with Wozniak's Apple I personal computer. The following year, the pair introduced the Apple II personal computer, featuring a central processing unit, keyboard, color graphics and a floppy disk drive.  
Wozniak finished his degree in electrical engineering/computer science from UC Berkeley in 1981, and to date, has received 10 Honorary Doctor of Engineering degrees.  
For his achievements at Apple, Wozniak was awarded the National Medal of Technology by President Ronald Reagan in 1985, the highest honor bestowed on America's leading innovators. In 2000, he was inducted into the Inventors Hall of Fame and was awarded the prestigious Heinz Award for Technology, The Economy and Employment for designing the first personal computer and then redirecting his lifelong passion of mathematics and electronics toward igniting fires of excitement for improvements in education.  
Through the years, Wozniak has been involved in various business and philanthropic ventures, focusing primarily on computer capabilities in schools and hands-on, experiential learning encouraging creativity and innovation from students. Making significant investments of both his time and resources in education, Wozniak adopted the Los Gatos School District in Los Gatos, California, providing students and teachers hands-on experiences and state-of-the-art technology equipment donations. He also founded the Electronic Frontier Foundation, and was the founding sponsor of the Tech Museum, Silicon Valley Ballet and Children's Discovery Museum of San Jose.  
Wozniak is the author of iWoz: From Computer Geek to Cult Icon, a New York Times best-selling autobiography. His television appearances include Dancing with the Stars, The Big Bang Theory, My Life on the D List, The Late Show with Stephen Colbert, Conan, The Tonight Show Starring Jimmy Fallon and Celebrity Watch Party.  
Wozniak continues to pursue his entrepreneurial and philanthropic interests today. In October 2017, he co-founded Woz U, a postsecondary education and training platform focused on software engineering and technology development. He also recently co-founded Efforce, which leverages disparate applications of blockchain technology. 
Wozniak will be the fifth speaker in the University's Romain College of Business Innovative Speaker Series. Previous speakers include General Colin L. Powell, USA (Ret.), former Secretary of State, in 2019, Dr. Oscar Salazar, founding chief technology officer of Uber, in 2017, Dr. Ben Bernanke, former chairman of the Federal Reserve, in 2015, and T. Boone Pickens, legendary entrepreneur and philanthropist, in 2013. 
"Steve Wozniak in Person" is hosted by the USI Romain College of Business and made possible through the Romain College of Business Innovative Speakers Series, a permanent endowment of the USI Foundation through the generous gift of Connie '74 and Ron '73 Romain.