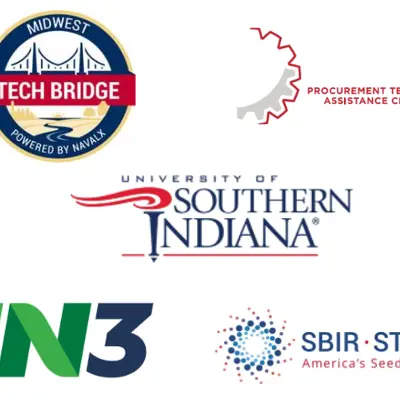 USI co-sponsoring workshop to help area businesses compete for federal funds
The University of Southern Indiana is co-sponsoring a free workshop to help area businesses learn how to vie for federal funds that can help them grow and compete. The workshop will be held from 11:30 a.m. to 1 p.m. May 11 in Carter Hall, located in University Center West on campus. 
The USI Center for Applied Research and USI Outreach and Engagement are co-sponsoring the event with the Indiana Procurement and Technical Assistance Center (PTAC), IN3 (Indiana Innovation Institute) and NavalX Midwest Tech Bridge to provide hands-on assistance to qualifying small businesses. During the session, part of a statewide series, guidance will be offered on how to take advantage of the federal Small Business Innovation Research and Small Business Technology Transfer (SBIR/STTR) programs.  
The SBIR and STTR programs both offer qualifying small businesses federal funding opportunities with the goals of stimulating technological innovation, engaging small businesses to meet federal research and development needs, fostering and encouraging participation in innovation and entrepreneurship by socially and economically disadvantaged small businesses, and increasing private sector commercialization of innovations derived from federal funding. 
This will be an in-person event, but a virtual option is available as well. Lunch will be provided for those taking part in person. Registration is required and can be completed on the Indiana Innovation Institute (IN3) website. Please indicate any dietary or disability-related accommodations during registration.  
If your company is interested in hosting an informational table for post-event networking purposes,  contact Steven Stump, Assistant Director of the Center for Applied Research, at ststump@usi.edu.   
For more information on the workshop, contact Julie Griffith, IN3 Executive Vice President for Strategy, Partnerships and Outreach, at jgriffith@in3indiana.com, or Chris Jeffers, Indiana Procurement Technical Assistance Center State Director, at cjeffers@iedc.in.gov.