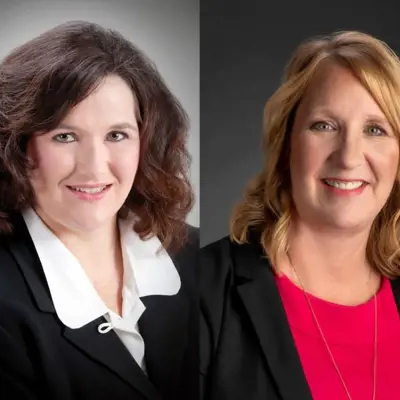 Blunt named Interim Dean of Pott College of Science, Engineering, and Education
McCullough to become Interim Associate Provost for Academic Affairs
The University of Southern Indiana has named Dr. Shelly Blunt, Associate Provost for Academic Affairs, as the Interim Dean of the Pott College of Science, Engineering, and Education, effective January 2. She also serves as Professor of Chemistry. She previously served as the Associate Dean for the Pott College. Blunt succeeds Dr. Zane Mitchell, who announced he would be stepping down from the position at the end of the year due to ongoing health reasons. Mitchell will continue to serve the University on special projects for the Provost's Office.  
"We are pleased and proud to welcome Dr. Shelly Blunt back to the Pott College to serve as our Interim Dean," said Mitchell. "Shelly had an amazing and positive impact on the College during her time as Associate Dean, and we know the College will be in good hands with her at the helm." 
Blunt is actively involved in STEM education and was instrumental in the development of the Southwest Indiana STEM (SWISTEM) Resource Center at the University. She currently serves on the Science Education Foundation of Indiana (SEFI) Board and numerous state-wide committees of the Indiana Commission for Higher Education.  
She earned her undergraduate degree from Truman State University and her doctoral degree in organic chemistry from the University of Iowa. Her research interests revolve around directed metalations in organic syntheses, STEM education, academic advising, and student success and persistence. Blunt has generated over $4.5 million in external funding as principal investigator to support her research interests in STEM education, and student success and persistence. Her efforts in STEM education in southern Indiana earned the Celebration of Leadership Regional Impact award in 2010. She is responsible for securing several grants, including Lilly Endowment Charting the Future for Indiana Colleges and Universities Grant, Co-Principal Investigator, 2020-2023, $2.5 million; National Science Foundation (NSF) Improving Undergraduate STEM Education (IUSE) grant, 2020-2022, Co-Principal Investigator, $149,952; and NSF-Science, Technology, Engineering and Mathematics Talent Expansion Program (STEP) grant, Co-Principal Investigator, 2008-2013, $1.2 million. 
Blunt has been actively involved in undergraduate advising, served as University Advising Fellow for five years, and received the Outstanding Advisor of the Year and the Phenomenal Women of USI awards. Other accomplishments under her leadership include the creation of first year advising centers in each academic college at USI, successful implementation of a new general education core and the development of a university-wide, first-year seminar class.    
A national search will be conducted to fill the dean position in the Pott College. 
Interim Associate Provost for Academic Affairs
Dr. Julie McCullough, Assistant Dean of Health Professions in the College of Nursing and Health Professions, will become the Interim Associate Provost for Academic Affairs, effective January 2. She also serves as Chair of the Food and Nutrition Department and is an Associate Professor of Nutrition. She previously served as a Core 39 Curriculum Facilitator for the College. 
As the Associate Provost for Academic Affairs, McCullough will assist the Provost in managing various facets of undergraduate and graduate education programs, including general administration with college deans, the Center for Excellence in Teaching and Learning, Online Learning, Disability Resources, and Student Affairs administrative staff in coordinating programs including University Core Curriculum (Core39), Academic Program Review, Honors Program, Living Learning Communities, First Year Experience and Undergraduate Research Initiatives - Endeavor! 
McCullough holds a bachelor's degree from Purdue University and master's and doctoral degrees in nutrition from University of Tennessee Knoxville. Her areas of expertise are centered around dietetics, and her research focuses on food system policy.  
She is a founding member of the Evansville Area Food Council and a leadership group member of the Welborn Foundation Healthy Communities Partnership. McCullough has been instrumental in numerous community health and nutrition endeavors around the Tri-state area. She is the Outstanding Dietitian of the Year from the Indiana Academy of Nutrition and Dietetics and Outstanding Dietetic Educator from the Academy of Nutrition and Dietetics. She was awarded the first Faculty Affairs Excellence in Teaching Award from the College of Nursing and Health Professions and Quality Matters certification for online course design.  
At USI, McCullough led the creation of the Food and Nutrition bachelor's degree, two minors and accreditation of the Dietetics program, collaborated with architects on the design and conversion of the Health Professions Building, including the addition of state-of-the-art food and nutrition classroom and laboratory space. She also helped to create the Food and Nutrition and Southern Roots student organizations.