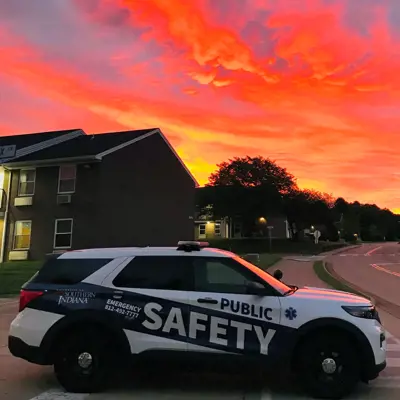 USI Public Safety, Vanderburgh County Sheriff's Office and Perry Township Fire Department help deliver healthy baby boy
It's not every day you get to assist with the delivery of a healthy baby boy on the side of Schutte Road. University of Southern Indiana Public Safety, Vanderburgh County Sheriffs and the Perry Township Volunteer Fire Department went above and beyond regular duties this morning, Wednesday, October 26, responding first on the scene and assisting a pregnant mother in need from Illinois who was attempting to reach an Evansville hospital. 
The call came around 7 a.m. Wednesday morning as USI Public Safety was notified of a medical emergency off campus near the east bound Lloyd Expressway and Schutte Road. Upon arrival, the new mother's vital signs, medical history and immediate situation were assessed. Then, it was time to get to work—ready or not, the baby boy was ready to make his grand arrival into the world.   
Jonathan Hancock, USI First Shift Public Safety Sergeant, was on scene and received assistance from Vanderburgh County Sheriffs and Perry Township Fire Department personnel prior to an ambulance arriving. He and others assisted with the delivery until medical professionals arrived and took over. 
"It's not often as an EMT that I see life begin in this world—usually it's the end of a person's life I see," says Hancock. "When I get to have these moments like today, I relish how much I love my job. I have been an EMT for 14 years and have been involved with various deliveries, but this is my first solo delivery, and I am grateful it went smoothly with no complications for mom or baby. I am also proud of my staff for helping where needed at the scene." 
The new mother and baby boy are both reported to be doing well, settled in and savoring each other's company at an Evansville hospital, with only a slight detour. It's not every day you get the opportunity to assist in bringing life into the world. But when you do, it makes for a special day.  
"USI Public Safety trains to provide security and Emergency Medical Services (EMS) to the USI campus community," says Stephen Bequette, Director of USI Public Safety. "At 7:04 this morning, those services were needed off campus, and the result was a healthy baby being brought into the world. We are very proud of our officers who profoundly impact not only the campus community, but also adjacent areas when needed."