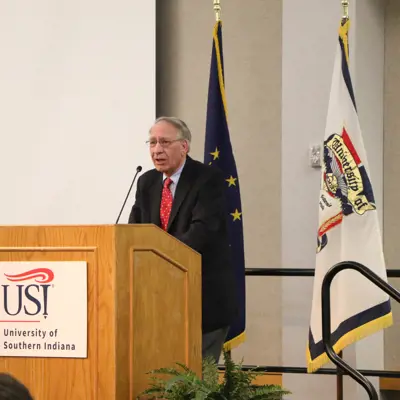 Brill recognized as 2022 USI Distinguished Accountant
Alan R. Brill, President of Business Management Consultants, LLP, has been named the recipient of the 2022 USI Romain College of Business Distinguished Accountant Award. The award was announced by the 2021 recipient, Michael B. Carroll '88, Chief Financial Officer at Heritage Federal Credit Union. 
Brill graduated from DePauw University and earned an MBA at Harvard Business School. An entrepreneur, investor and mentor, he has been involved with businesses nationally and internationally, specializing in real estate, radio, newspaper, telephone and software industries. He became a leader in developing the real estate investment trust industry in the Atlanta area, followed by extensive experience in financing and acquisitions. Brill also started his own media company, Brill Media Company, currently named Business Management Consultants, LLP. 
Brill has a passion for USI and the opportunities the institution provides students. He has been an active member of the Romain College of Business Board of Advisors for more than 30 years and served as Executive in Residence in 2001.  
The Distinguished Accountant Award has been given annually since 2004 by the USI Romain College of Business in conjunction with the USI Accounting Circle and recognizes professional achievement, service to the region and/or the University and service to the accounting profession. The selection criteria include leadership, professional achievement, stature in the accounting industry and involvement with USI and the community.