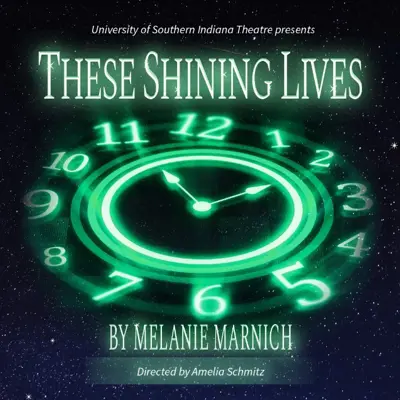 USI Theatre presents These Shining Lives by Melanie Marnich
University of Southern Indiana Theatre will continue its 2022-23 season with These Shining Lives, based on the true story of the Radium Girls, November 17-20 in the USI Performance Center. The show is being directed by senior Amelia Schmitz. 
These Shining Lives chronicles the strength and determination of women considered expendable in their day, exploring their true stories and continued resonance. Catherine and her friends are dying, it's true; but it's a story of survival in its most transcendent sense, as they refuse to allow the company who stole their health to kill their spirits or endanger the lives of those who come after them. The story told of these four women only gives a glimpse of what hundreds of women experienced due to fatal radium poisoning. Their determination to change history for the women following them in the workforce shines through as the story unfolds. 
Schmitz is joined by a design team including Joshua Stallings, Performing Arts Department Facilities Coordinator, as Lighting Designer; Beth Weigand, Graphic Designer; Mel Hanebutt as Sound Designer; Madalyn Cottrell as Wardrobe Supervisor; Dakota Smith as Head Electrician; and Cole Brinker as Stage Manager. 
This production is largely student led from the design team to the stage management and direction. The team also includes Grey Miller, Abby Scheller, Jade Griffy, Via Wagner, Alisha Glover, Chloe Kummer, Blair McKown, Eve Pigman, Sophie Rosenbaum, Nathaniel Tang, Olivia Wagner, Jalen Williams, Austin Ferrari, Gavin Carter, Andrew Bryant, Kale Rister, Riss Solis, Ashlyn Thornburg, Lucy Brown, Maddi Maxwell, Rayn Miller, Kierstin Prewitt, Brynne Stevens, Zoe Wainscott, Jaden Crouch, Avery Yates, Grace Devries, Lillian Ireland, Haley Boyd, Ian Palomino, Kenny Furness and Nolan Kirby. 
The cast of These Shining Lives includes USI Students Haley Boyd, Gavin Carter, Noah Harrison, Blair McKown, Rayn Miller and Avery Yates. 
Tickets are $2 for USI students; $10 for USI employees; $4 for non-USI students (includes K-12 and non-USI college students [student ID required]); $10 seniors (60+); and $12 for adults. Tickets are free to USI students with ID one hour before the show begins based on availability. Shows begin at 7 p.m. Thursday through Saturday and 2 p.m. for the Sunday matinee.   
To purchase tickets or for more information, visit USI.edu/liberal-arts/usi-theatre, or call the box office at 812-465-7110. Follow USI Theatre on Facebook at USITheatre and Instagram @USI_theatre.