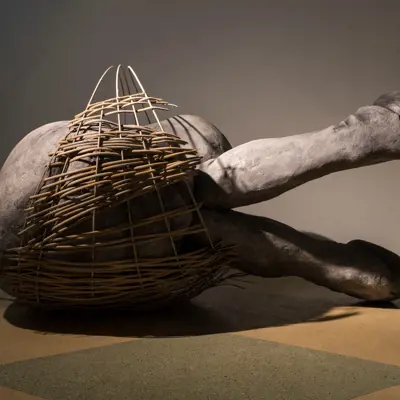 Indiana artist Melanie Cooper Pennington to be on display at USI New Harmony Gallery of Contemporary Art
The University of Southern Indiana's New Harmony Gallery of Contemporary Art (NHGCA) is proud to present Climb In and Back Out Again, featuring sculpture, installation and drawings by Indiana artist Melanie Cooper Pennington.  
Climb In and Back Out Again runs from January 21 to February 25, opening with a reception from 4 to 6 p.m. January 21. A corresponding artist's talk will be held at the beginning of the reception. Gallery hours are 10 a.m. to 5 p.m. Tuesday through Saturday. 
Pennington utilizes materials, methods, and symbols to examine gendered issues around power, grief and desire in Climb In and Back Out Again. In her works, she melds human and anthropomorphic bodies into abstract forms to evoke physical sensations such as intimidation, awkwardness and ecstasy. Embracing the tension between what is familiar and what is unknown, Pennington blazes a trail for deep communion with oneself and others. 
Having descended from Arizona cowboys, Pennington formally references art histories rooted in masculine symbols and practices such as Western American Art, mid-century modernist sculpture and traditional craftsman-like techniques. Yet she confronts these tropes and utilizes "the feminine" which historically was used to denigrate the work of women artists. As an exploration of the body and its psychological states, Pennington asserts traits that have historically been considered "weak"—fragility, sexuality, desire—as elemental to human fulfillment. 
Pennington is an interdisciplinary artist living in Bloomington, Indiana. She recently presented the solo exhibition Humanimals in Precarious Positions at Artlink Contemporary in Fort Wayne, Indiana, and was featured in group shows at sUgAR Gallery at the University of Arkansas, The In Art Gallery in Fayetteville, Arkansas, Indiana University East, ACRE Projects in Chicago, Illinois, and Manifest Gallery in Cincinnati, Ohio. She has presented public art projects at Indiana University, Chicago Park District, and Indianapolis Art Center and participated in residencies at the Vermont Studio Center, ACRE Residency in Steuben, Wisconsin, Haystack Mountain School of Craft in Deer Island, Maine, and Anderson Ranch Arts Center in Snowmass Village, Colorado. Pennington teaches as a Lecturer in Sculpture at Indiana University Bloomington. 
*Climb In and Back Out Again contains sexual content and may be sensitive for some audiences. Please use discretion when attending. 
New Harmony Gallery of Contemporary Art promotes discourse about and access to contemporary art in the southern Indiana region and is a proud outreach partner of the University of Southern Indiana.