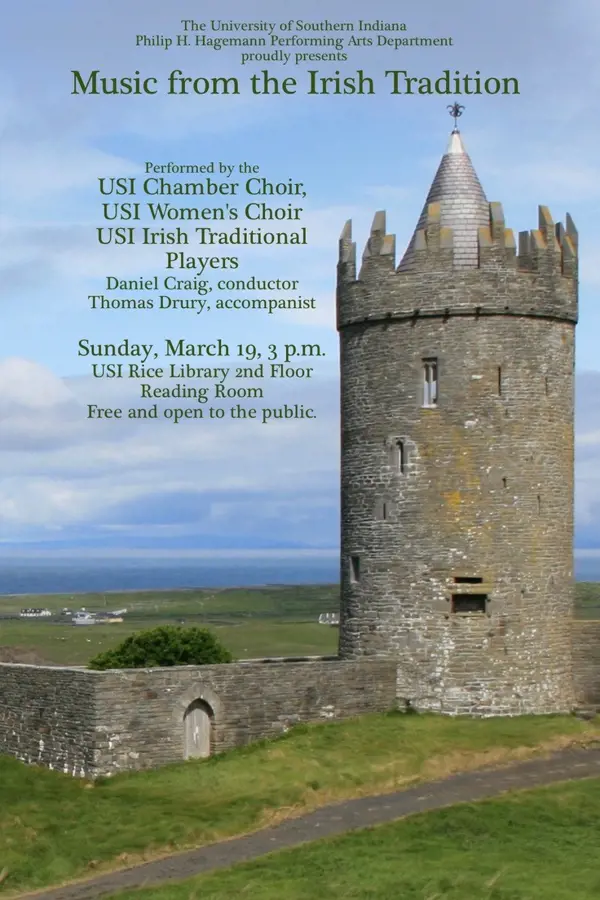 USI choirs to hold spring concert of Irish traditional music
The University of Southern Indiana Philip H. Hagemann Department of Performing Arts is proud to present "Music in the Irish Tradition," a concert by the USI Women's and Chamber Choirs and the USI Traditional Players. The concert is scheduled for 3 p.m. Sunday, March 19 in the David L. Rice Library second-floor Reading Room. The concert is open to the public at no charge.   
"This is one of the only places that you will be able to hear true Irish traditional music in this area over the St. Patrick's Day weekend," says Daniel Craig, Associate Professor of Music. "This concert includes several pieces that will be performed during the USI Chamber Choir's upcoming tour to Ireland."  
The concert will feature traditional music from Ireland in both the English and Irish languages as well as several sets of Irish Traditional jigs and reels. 
For more information, contact Craig at 812-464-1736.