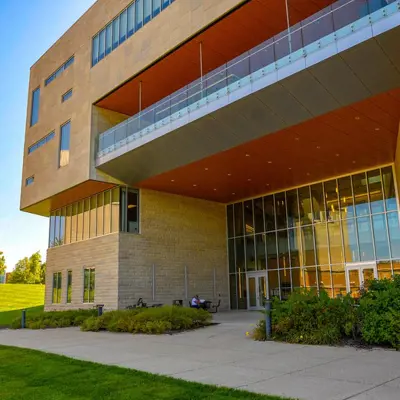 USI Romain College of Business receives extension of business accreditation from AACSB
The University of Southern Indiana Romain College of Business has received a five-year extension on its accreditation for its business programs from the Association to Advance Collegiate Schools of Business (AACSB) International, the world's largest and longest-serving accrediting body for business schools.  

AACSB accreditation is considered the "gold standard" for business accreditation, and the Romain College of Business is among only 5.7% of business schools, globally, to have earned the accreditation. 
"We were excited to learn we received the best outcome of an extension of AACSB accreditation for our business programs for five years, after a semester-long, intense peer-review process," says Dr. Sudesh Mujumdar, Dean of the Romain College of Business. "This is a fine testament to the high-quality work of our world-class faculty, highly dedicated staff, superb students, and the highly supportive USI leadership, community partners and the USI Foundation."  
USI achieved initial accreditation for its business programs in 1998. Achieving accreditation is a multi-year process of rigorous internal focus, engagement with an AACSB-assigned mentor and peer-reviewed evaluation. Schools must develop and implement a plan to align with accreditation standards. These standards require excellence in areas relating to strategic management and innovation; student, faculty, and staff as active participants; learning and teaching; and academic and professional engagement.  
"AACSB congratulates each institution on their achievement," said Stephanie M. Bryant, Executive Vice Pand Chief Accreditation Officer of AACSB. "Every AACSB-accredited school has demonstrated a focus on excellence in all areas, including teaching, research, curricula development and student learning. The intense peer-review process exemplifies their commitment to quality business education." 
The Romain College of Business offers undergraduate programs in accounting, business administration, computer information systems, computer science, economics, finance, management and marketing as well as both a traditional and an online Master of Business Administration (MBA) Program, with the online MBA program having earned additional accolades of being ranked among the best online MBA programs by U.S. News and World Report for 2023 and 2022. The Romain College of Business also boasts a portfolio of four state-of-the-art laboratories which form the anchor of its value proposition—leveraging technology in unique ways to build market-leading competencies in a personalized, co-created learning environment.