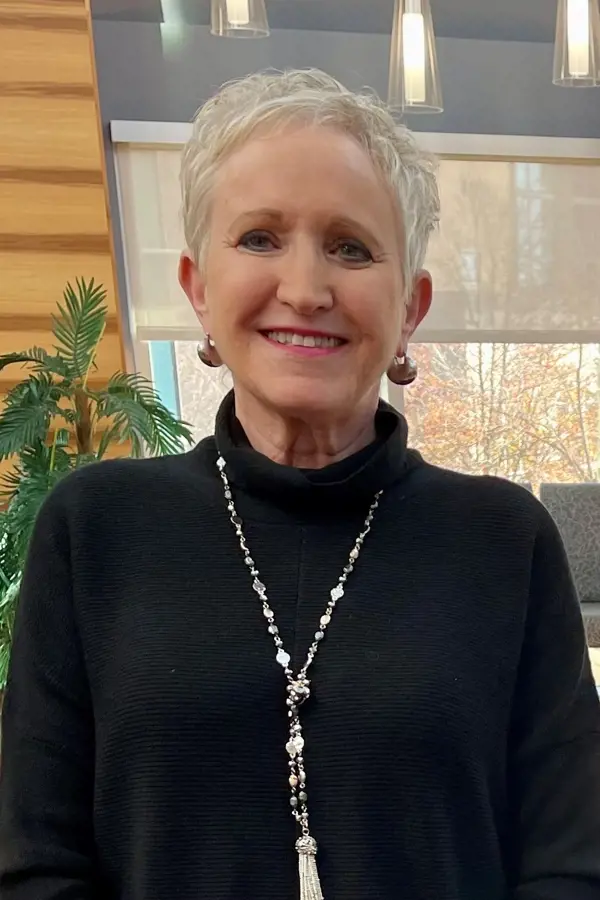 McDowell awarded 2023 M. Edward Jones Engagement Award
The University of Southern Indiana's Outreach and Engagement has awarded the 2023 M. Edward Jones Engagement Award to Charmaine McDowell, Director of Corporate Partnerships with Outreach and Engagement. 
The award is given annually to an individual, group, or project for excellence in leadership, commitment to quality, tireless service and dedication to lifelong learning in fulfilling the outreach mission of USI. 
Since joining USI in 1992, McDowell has passionately served the region, sharing the best of USI to benefit individual development and organizational advancement. She has developed ongoing partnerships and training to elevate safety, productivity, retention, leadership, customer service and an improved bottom line. 
"Charmaine McDowell embodies the USI Outreach and Engagement mission by connecting with the community and turning ideas into real opportunities," says Dawn Stoneking, Executive Director of Outreach and Engagement. "She is a listener, innovator, educator, and collaborator who has enhanced the bonds between the community, government, businesses, organizations and individuals, responding to their needs and fostering learning and growth." 
One such partnership was the formulation of the Tri-State Industrial Safety Council (TSISC) in 2003, a collaboration of regional safety professionals to promote a cost-effective, safe work environment for owner organizations and contract employees. TSISC, a member of the Association of Reciprocal Safety Councils, Inc. (ARSC), in partnership with USI Outreach and Engagement, offers the Basic Orientation Plus™ and Refresher reciprocal safety training programs. Since its inception, the programs have served over 120,000 contractor employees regionally. In addition, McDowell has coordinated site-specific safety training for over 48,000 contractors at TSISC owner-member companies. 
McDowell's leadership and training expertise have served the manufacturing industry, particularly Toyota Motor Manufacturing Indiana (TMMI), where she has conducted training on-site for all shifts. She has provided instruction in team leader orientation and development, communication, creativity and innovation, soft skills, new engineer orientation, A-3 writing, project management, diversity, safety and other valuable learning modules for TMMI employees. 
She also serves as President on the Board of Directors for Meals on Wheels and served over 15 years on the board of Voices, an advocacy group supporting Vanderburgh County residents in long-term care facilities.  
"I am pleased to be nominated for this award and honored to be selected as this year's winner," McDowell says. 
The M. Edward Jones Engagement Award recognizes USI employees (current and retired), students, alumni, board members, and trustees who inspire others to engage, have made a positive impact in the USI community and the region and demonstrate tireless service and dedication to lifelong learning in fulfilling the outreach mission of the University of Southern Indiana. 
For more information about the M. Edward Jones Engagement Award, visit USI.edu/jonesaward.