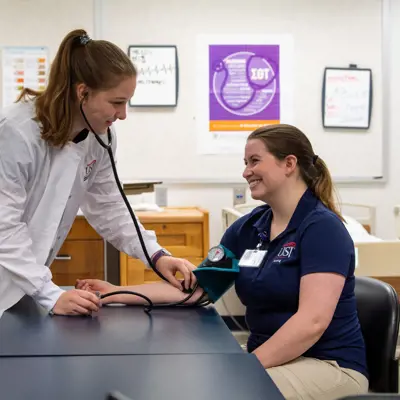 USI reports 100% NCLEX pass rate for Spring 2023 nursing graduates
Nursing leaders at the University of Southern Indiana report that all 78 Bachelor of Science in Nursing (BSN) students who graduated in May 2023 and took the National Council Licensure Exam (NCLEX®) in June and July have passed on their first attempt. The NCLEX is an exam required to become a registered nurse (RN), and USI's 100% pass rate is over 12% above the year-to-date national pass rate of 87.6%, according to second quarter statistics from the National Council of State Boards of Nursing (NCSBN). 
"In February, Nurse Journal reported that pass rates for the 2022 NCLEX were at their lowest point in 10 years, which some say is due to the impact of COVID-19 and the pivot from in-person classes to online learning," said Dr. Jennifer Evans, Assistant Dean for Nursing in USI's College of Nursing and Health Professions. "Despite all of the stress and anxiety during the pandemic, USI Nursing's first-time RN licensure pass rates have been consistently in the 96-100% range the past five years, which is a pretty good measure of USI's excellent nursing education." 
Evans said that in April 2023, the NCLEX was revised to better reflect actual nursing practice and assess graduates' critical thinking and clinical decision-making skills. "Because we knew the NCLEX change was coming, our faculty consistently provided positive affirmations to our students that they were prepared while systematically introducing them to the newly designed question formats," she said. "We have always been confident that our USI Nursing graduates were well prepared upon graduation from our program. However, our 100% pass rate reaffirms that USI Nursing graduates have the critical knowledge, skills and attitudes to enter the nursing profession." 
In addition to the BSN program, USI offers a 100% online RN to BSN option for working professionals to earn a bachelor's degree, the ASN to BSN dual enrollment program with Ivy Tech, and several graduate nursing programs for nurses to pursue advance practice nursing, leadership and education roles. 
Learn more at USI.edu/nursing.