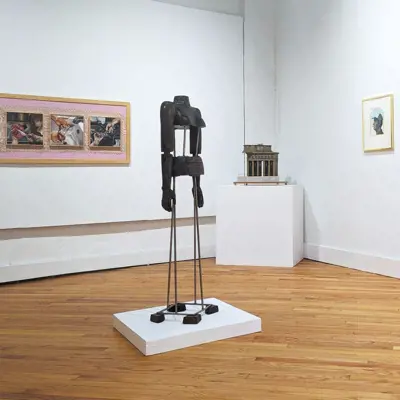 "Sanders Spotlight" to be displayed at USI New Harmony Gallery of Contemporary Art
The University of Southern Indiana's New Harmony Gallery of Contemporary Art (NHGCA) is proud to present "Sanders Spotlight," an exhibition showcasing a selection of works in the University Art Collection by previous James A. Sanders Gallery Fellows. 
"Sanders Spotlight" is on display now through October 14, opening with a reception from 4 to 6 p.m. Saturday, October 14, in conjunction with New Harmony Second Saturdays. Gallery hours are 10 a.m. to 5 p.m. Tuesday through Saturday.  
In 2008, Sanders, Director Emeritus for Corporate and Foundation Relations and former Director of Historic New Harmony, provided funding for a one-year fellowship to support one or more students interested in exhibition design, publicity, curation and management at an art gallery through supervised applied training with the University Art Collection and at the Kenneth P. McCutchan Art Center/Palmina F. and Stephen S. Pace Galleries on the USI campus and the New Harmony Gallery of Contemporary Art, located in historic New Harmony, Indiana. 
At each location, the fellow is assigned a project that supports the mission of the organization. In addition, there are opportunities to learn different aspects of caring for an art collection and managing a non-profit art gallery. In the newly created BG (Back Gallery) Projects at the NHGCA, a fellow will have the opportunity to curate their own exhibition. The fellow is required to complete a journal that describes the project and experiences of the fellowship. This fellowship connects the recipient(s) with art professionals in the region and aids in networking for future career opportunities. As of June 2023, 30 students have benefited from the James A. Sanders Fellowship at USI. 
Previous fellows whose artwork is featured include: 
Roxanne Burton '12

 

Tabatha Chinn '19

 

Sarah Howard '10

 

Cheyenne Miller '22

 

Debra Pellant '14

 

Nathan A. Pietrykowski '11

Livia Xandersmith '18

 
Sanders had a distinguished career in education, teaching in the Henderson, Kentucky, and Evansville-Vanderburgh School Corporations. In 1985, he left teaching to become the University's first Director of Historic New Harmony, where he was able to combine his marketing knowledge with his interest in historic preservation.  
Under Sanders's management, he moved the organization's focus from restoration to education, built the assets of the USI-New Harmony Foundation, developed new educational exhibits and involved the residents of the town of New Harmony in the University's programs there. After 10 years as Director, Sanders accepted a position as Director of Corporate Relations at USI. He also gave leadership to the establishment of the Art Collection Committee and obtained funding to support the teaching collection. 
The NHGCA is dedicated to enhancing the experiences of students through an artist-run exhibition space in the Back Gallery. Back Gallery Projects at NHGCA allows students to exhibit, experiment and/or curate within a working contemporary art gallery setting. Through exhibition and curatorial strategies, students can envision new possibilities for collaborations and their art practice. 
NHGCA promotes discourse about and access to contemporary art in the Southern Indiana region.