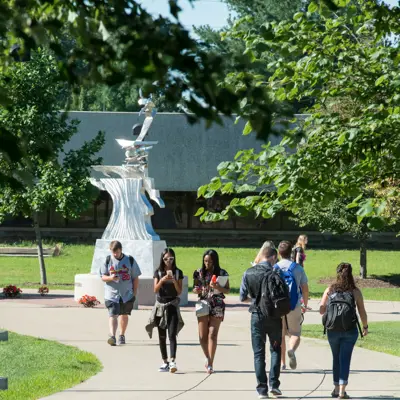 USI overall enrollment up including record number of graduate students
Increase in diversity continues 10-year upward trend
For the first time in more than a decade, the University of Southern Indiana has seen an increase in its overall enrollment. "This is an exciting time to be at the University of Southern Indiana," says Troy Miller, Vice President for Strategic Enrollment Management. "This is the year to make our mark in the sand and begin a trajectory of growth. We can't wait to see the achievements of this larger Class of 2027 during their time at USI. This increase in our incoming class size reflects our unwavering commitment to providing an exceptional educational experience and underscores the continued appeal of USI among prospective students as a first choice."
Combined, undergraduate, graduate and dual credit enrollment totaling 9,286 is up 1.2% from Fall 2022. The University also saw an increase in its first-time, full-time freshmen enrollment, 1,283, up by 2.6% compared to 2022. A record 1,854 students are enrolled in graduate programs, an increase of 1.8% over 2022, with an increase of 4.9% in new graduate student enrollment. While new freshmen enrollment was up, overall undergraduate enrollment saw a small dip at 5,409, down 2.3% from 2022. The decrease in total undergraduate enrollment can be attributed, in part, to smaller classes in recent years.
In 32 high schools across the state, 2,023 students are enrolled in dual credit through the College Achievement Program (CAP)—an increase of 11.3% from 2022. Notably, CAP courses are now offered free of charge to all students. In the past, the majority of USI dual credit courses required a fee of $25 per credit hour. According to a 2020 study conducted by the Society for the Study of Emerging Adulthood, dual enrollment can serve as a beneficial approach to ease the progression from high school to college, particularly for underrepresented students, including first-generation, minority and low-income.
The University remains dedicated to underrepresented populations with students of color and international students making up a record 18.1% of the student population, up from the previous year's record of 16.9%, and a continuous upward trend over the last decade. In recent years, the largest gains have been among Hispanic and Asian students. In each of the last two years, USI has also seen an increased proportion of male students landing at 37.4% this year.
"While we celebrate the increase in diversity at the University, we are committed to continually fostering a growing, inclusive community that champions the voices of all," says Dr. Ronald S. Rochon, USI President. "We're encouraged by the recent enrollment increase of men as we have traditionally enrolled a higher proportion of women students."
The University is pleased to welcome a highly academically qualified Class of 2027 with an average GPA of 3.41 on a 4.0 scale. This reflects a consistent trend of attracting students with strong academic aspirations and standards, reinforcing USI's position as a preferred campus for high achieving students.
Students at USI represent 87 Indiana counties, 47 states and 40 countries. In-state students comprise 76.0% of the student body, with out-of-state and international students making up the remaining 24.0%.